That's the sad refrain of employers across Canada struggling to find employees trained and skilled in science, technology, engineering and math.
According to Randstad's new whitepaper, "Confronting Canada's Technical Talent Shortage", even the experts can't agree on whether or not there actually is a dearth of STEM-skilled workers. And if there is, what's the impact on Canada's ability to compete globally? How do we ensure we have a future supply of these individuals? And won't that be too late? Isn't it better to be proactive than reactive?
So if the experts can't agree, where does that leave employers currently struggling to fill positions with qualified people who can push innovation and growth? Pundits say Canada's record of business innovation compared to other nations is historically and sadly lacking. Maybe we're just too polite.
Anyone running a business knows that if you're standing still, you're falling behind. That's because your competitors are taking the necessary steps to ensure they lead, not follow the pack.
Our evidence-based findings – and the calls we get from frustrated employers – tell the story. And it's a narrative we're hearing again and again, and in increasingly higher pitched voice. Many Canadian businesses experience difficulties when it comes to filling positions for IT specialists and engineers left vacant by retirement, fewer new graduates into the field, or simply a skills mismatch.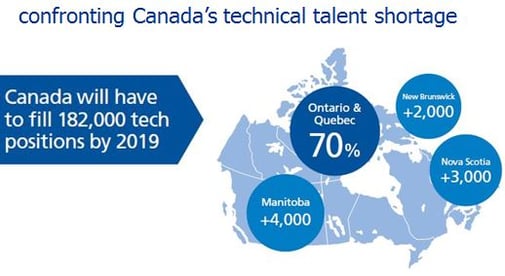 All, or at least those organizations looking to increase their level of customer satisfaction, service and competitive advantage are embracing technology across all industries, and consequently, have a growing need for STEM-skilled workers. No business that wants to stay in business and thrive is immune. How has IBM, in business for over 100 years, remained a leader? Innovation, agility, adaptability.
With technology changing at warp speed, driving the demand for highly skilled technology experts, STEM students are preparing for jobs that, by the time they graduate, will likely be supplanted by positions that haven't yet been invented. What's a business to do?
In the next few weeks, we'll be raising questions around that critical issue, and recommending strategies and solutions to the challenges of finding skilled tech and engineering, math and science specialists. We hope this conversation will spark ideas on how you can go about creating opportunities for the future. It doesn't take a Ouija board, just the willingness and commitment to create a solid plan for growth that looks at the big picture
The future is now. Let's talk.