5 Creative Hiring Tactics for IT
If you have a smart phone, a TV, a thermostat or even a field full of cows, developers and IT professionals are connecting you to the world. Recruiting these talented team members can be a challenge, here are 5 Creative hiring Tactics for IT.
1. Hiring young: Generation Y has already entered the workforce in a real way, their skills are competitive, but their experience may not be where you need them to be fully productive. There are members of Gen Y who are running start-ups successfully, they are being promoted to senior ranks within teams – this year give them a shot or you'll lose out on the leaders not just of tomorrow but may be today.
Generation Z, is younger but they are in some cases midway through their undergraduate programs. If you haven't started talent marketing to this group you might already be behind the Grade 8-Ball. You don't need an Instagram account to attract either generation Y or Z, recent research conducted by Randstad Canada has found that both groups are attracted by community engagement. Promote your Corporate Social Responsibility Programs, announce large hirings through the media and raise your profile with two generations at the same time.
2. Use contractors and contingent labour: While you need to build internal teams to help deliver this year's business solutions, onboarding team members won't solve immediate burning issues. There is an opportunity cost to not deploying new tools, or systems that improve efficiencies today. Contractors, or a contingent labour solution, can work with your team and immediately deliver on projects that can set up new hires for success this year.
Are you making enough? Find out with Randstad Technologies Compensation Survey.
3. Retention and promotion of women: There is a talent crisis in IT, and it is in how few women stay in their positions over the long term, with fewer female leaders in positions to act as sponsors or as powerful voices who can bring more women into the ranks – IT and Technical services have some of the lowest levels of female directorships outside of the natural resources industry
This can be a chicken and the egg problem, if an industry has few women in it, it is perceived as unattractive to women and fewer women apply to roles. There are still challenges, if are looking to fill a position for senior IT manager with 10-years of experience the reality is that there just weren't that many women enrolling in IT programs in 1998 who can apply for that job. This year, break that cycle in 2012/2013, women represented more than half of the working population and as many as 25.5% of graduates from programs in IT are women . Bring them into your company now and support them as they grow – over time that will improve your employer brand and make you a more attractive employer.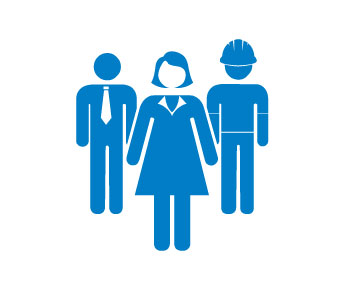 4. Offsite teams: In IT, there are many roles that can be done offsite. You can have a development team working on projects in Calgary, when your head office in Toronto. This can help you in a couple of ways. One, it lets you manage the costs of your employees more effectively, knowing that some markets have lower rates than others and two, it can increase the hours of your team's response and capacity with multiple team members in a variety of time zones. This flexibility means that if one team is bogged down in a weather emergency the whole team isn't impacted.
5. Redundancy: Many managers are forced by budgets to run programming with a tight ship, but there is a strong argument in having redundancy built into your team structure. Hiring an extra team member gives your team some breathing room on productivity; it can improve the team cohesion, reduce stress and if a team member leaves unexpectedly you'll have the added work capacity not reduce total output.
One greatest key to success in the talent war and in employer branding is competitive salary and benefits as found in Randstad Canada employer branding research in the Randstad Award. Make the best offers to your star candidates and be ready for your teams' performance reviews with up to date information on what candidates are looking for today.
Want more insights in your market or for your job hunt? Download the 2015 Randstad Technologies Compensation Guide.