Those who missed the Randstad Award last night missed something truly special. It was a fantastic event! We had hundreds of senior executives from many of Canada's largest companies, an impressive lineup of keynote and panel speakers, and we enjoyed great food, drinks and time for networking.
We were thrilled to announce WestJet Airlines Inc. as the #1 most attractive employer in Canada this year! Congratulations guys – from the largest 150 companies in the country, and based on the perceptions of 7,000 independently surveyed Canadian's, you've been recognized as Canada's most attractive employer - you are the "people's choice"!
Some other highlights from the event:
• Based on polling conducted by ICMA International in February and March of 2012, the top five award winners voted the most attractive companies to work for in Canada were: WestJet Airlines Ltd, ArcelorMittal, Pratt & Whitney Canada International Inc., IBM Canada, and tied for fifth place were Molson Coors Canada and Bombardier Inc. (To view the complete list of finalists for the most attractive employer in Canada, visit: randstadaward.ca)
• There were also some amazing keynote speeches and panel discussions from entrepreneur, venture capitalist, investor and TV personality Kevin O'Leary, globally-renowned employer branding expert Brett Minchington and Red Lion Chief Creative Officer Brett Channer, on the importance of an employer brand and what Canada's leading organizations are doing to attract skilled workers.
• Along with identifying Canada's most attractive employer, thought provoking industry insight and research from the Randstad Award Survey was revealed. The survey unveiled some interesting insight into the changing demands and priorities of the Canadian worker. To view some of the key findings from the study refer to the Randstad Award press release or you can download our brochure which will be available next week (be sure to check back on randstad.ca for that soon!).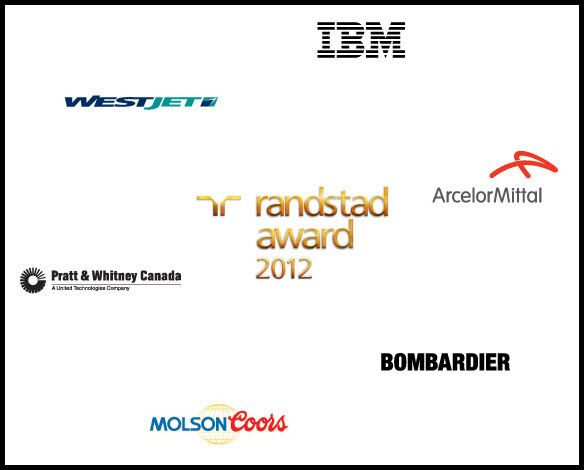 But don't worry if you weren't there, there are pictures and videos from the event on randstadaward.ca and there will be constant updates over the coming week!
On behalf of all of us at Randstad Canada, we would like to thank each and every person from every organization that was present at the Randstad Award event - and thank you for making it a successful one! We're already thinking about how we can top ourselves for the Randstad Award 2013 event…can't wait!