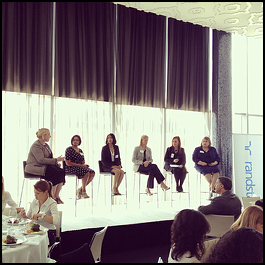 Yesterday, Toronto's trendy Malaparte was the place to lunch. Randstad Canada hosted a Women in leadership lunch and learn event where some of Canada's most successful women, with varying experiences and diverse achievements, met for a lovely lunch before exchanging thought-provoking ideas and inspiration on the topic of female leadership in a changing world.
Over 100 guests enjoyed an exceptional keynote address from Susie Wolff, development driver for the Williams F1 racing team, and one of only a handful of women who have driven in F1 in its history! She talked candidly about how she handled the highs and the lows that led her to where she is today.
Our own Executive Vice President of Marketing, Stacy Parker also led a panel discussion featuring Tova White, Vice President, Human Resources, Coca Cola Canada, Gayla Brock-Woodland, Managing Director, MS&L, Dr. Wendy Cukier, Vice President Research and Innovation, and Manju Jessa, Senior Counsel, RBC Law Group and Lucille D'Souza, Senior Counsel, RBC Law Group. They discussed their personal experiences, how they made their way to the top and, of course, what makes them successful and effective leaders.
As a woman in the workforce today, I could not have been more inspired! It thrills me to be a part of valuable events like this that foster insightful conversations about such an important and timely topic affecting today and tomorrow's evolving work of work. Go Randstad Canada for recognizing, inspiring and empowering women like me!!
By: Dayana Fraser