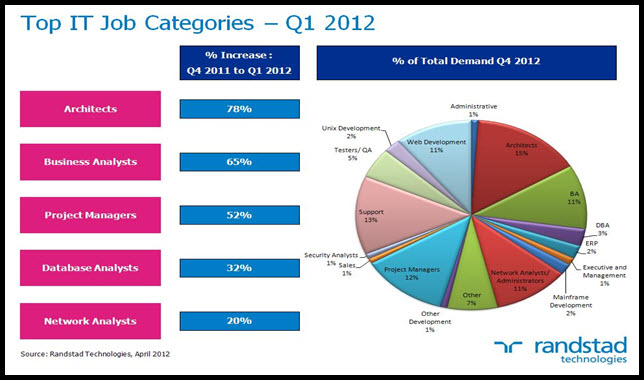 Randstad Canada's IT division, Randstad Technologies' latest Canadian workforce trends shows that several IT job categories received a significant increase in the first quarter of this year over Q4 2011.
The top IT job category, which saw a 78% increase from Q4 2011, was Architects. This job category includes IT roles such as Application Development Architects, Business Architects, Database Architects and Network/Infrastructure Architects. Tom Turpin, EVP of Sales at Randstad Canada, say's "I'm not surprised to see architecture roles experiencing a large gain. Many organizations we deal with are feeling pressure to innovate and drive productivity. Often this is achieved through technology. Architecture, along with Business Analytics spearhead the drive forward."
Capturing 15% of the total demand in Q1 2012, Architectural roles took a significant lead this quarter; this may indicate the beginning of new project life cycles as architects are commonly employed for planning and design. For a list of sample roles within each of the top categories, please see below:
Randstad Canada is looking for qualified candidates for these positions and many more.
For positions in administrative support, skilled trades and industrial management, please visit randstad.ca. Register online today and search through thousands of jobs across Canada!