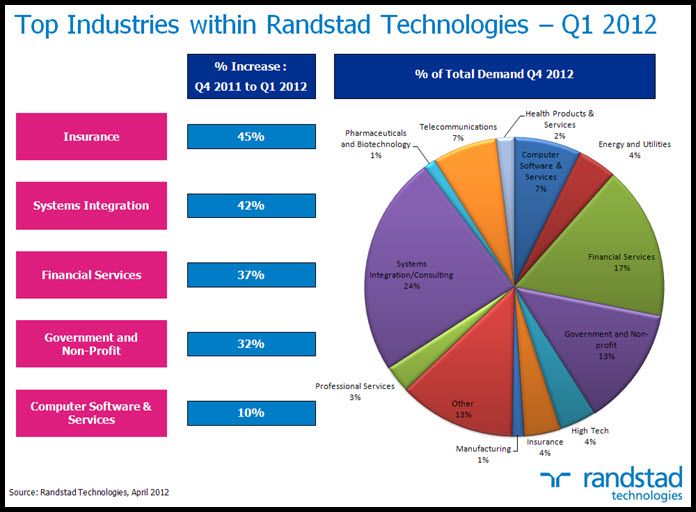 Canadian Workforce Trends: Randstad Canada's Information Technologies division, Randstad Technologies, saw a significant increase in demand for contract and permanent employment candidates from several industries in the first quarter of this year, over Q4 2011, based on our internal data tracking.
The top industry, which experienced the highest demand for Randstad's services in Q1 2012, was the Insurance Industry, which saw an increase of 45% over the previous quarter. The insurance industry accounted for roughly 4% of our client demand in Q1 2012, a relatively small percentage; however the pace of growth from Q1 makes it an industry to watch. A couple months back, Canadian Underwriter release an article which stated, "The stability of the global insurance sector and its ability to absorb massive catastrophe losses could signal a sharp increase in demand in the near future". As this article was release in November 2011, Randstad Canada is seeing an increase in demand within this sector in Q1 2012. To view the complete article, please visit the web address below.
The second highest industry, in terms of a significant increase in demand from Q4 2011, was Systems Integration with an increase of 42%. This industry not only experienced the second highest demand, but is also the highest overall demand in Q1 2012 with an overall total of 24%. Financial Services closely follows in third with a 37% increase from Q4 2011, accounting for the second highest overall demand in Q1 2012 of 17%.
For those interested in an IT career within the highest industries, in Q1 2012, below are some sample roles that are in demand in their respective industry.

Source: Canadian Underwriter - Insurance sector positioned for surge in demand: Willis - http://www.canadianunderwriter.ca/news/insurance-sector-positioned-for-surge-in-demand-willis/1000663539/