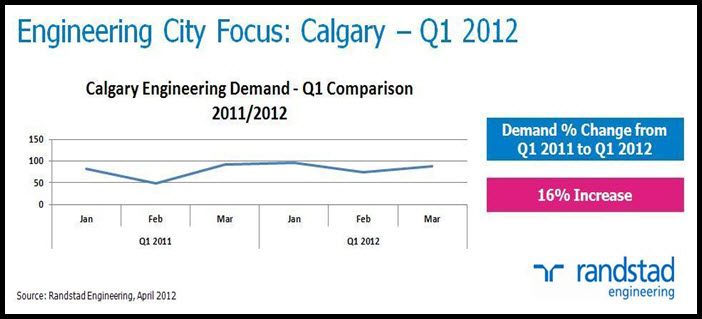 Having one of the highest employment rates, Alberta is currently leading Canada in economic growth. Randstad Engineering has chosen Calgary as a focus for this week's Canadian Workforce Trends due to the demand Calgary is continuing to experience for Engineers and skilled technical workers. Accounting for 21% of Randstad Engineering's demand in Q1 2012, second highest regional demand, Calgary is showing a 16% increase in Engineering demand in Q1 2012 over the same period one year ago.
Looking deeper into Calgary, and even the entire province, the boom within the Oil and Gas sectors and the oilsands specifically, has positively affected not only the province's economy, but also the entire country. Randstad Canada recently issued a press release wherein Mike Winterfield, President of Randstad Professionals, quotes, "Demand has risen over the last 18 months for the resources, resulting in many of the large Oil and Gas owners looking at and re-starting projects which were put into a holding pattern or outright shelved during Q1 2009." With demand on the rise, Mike Winterfield predicted an ongoing shortage in seasoned engineers and managers trending towards an extreme shortage, in an article written by the Calgary Herald. As a potential remedy for the shortage, "Randstad is advising clients to get creative, to think of ways to spread the leadership around by building teams of engineers with varying levels of experience." How these sectors will overcome the challenges Randstad Canada has predicted will have a critical impact on the Canadian economy going forward.
Below are the top roles and industries that were in demand in Q1 2012 within the Calgary area.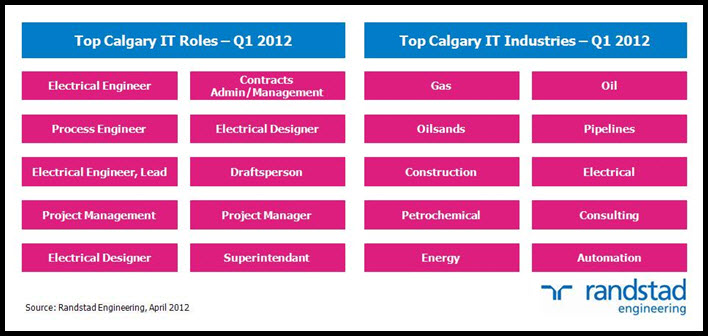 Sources:
Randstad Canada News Room - Oil Sands Jobs Help Drive Alberta's Economy -
Calgary Herald - Oil Sands Expansion Ramps up Demand for Engineers -