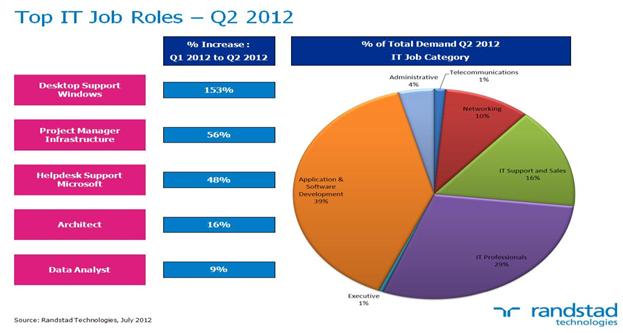 Canada's Top IT Job Roles can be found when looking back at total demand from the second quarter of this year—specifically for our Technologies division, which is Canada's largest provider of IT recruitment.

In Q2, Windows Desktop Support roles were in high demand; more than doubling compared to one year ago. With high demand comes pressure on the supply pool—we saw several clients requiring candidates who can provide support under various responsibilities within a single role. One of the added responsibilities can include being the primary point of contact for helpdesk support calls, which then involves timely and accurate resolutions of issues. This role may also include assisting in various tasks such as, application support and installation, security protection for desktops, notebooks and servers, sourcing of hardware and software, and even assistance in account administration. These are only a sample of the variety of tasks involved in Desktop Support roles; depending on the client and their needs, your responsibilities within this role may be different.
To match demand, there are a number of skills areas that Desktop Support candidates should be aware of, or seek to develop, including:
Cisco knowledge, including routing and switching in a dynamic environment
Oracle Database
VMware
Microsoft capabilities, including current versions of Exchange deployment, in an Enterprise environment
Superior customer Service skills
Excellent communication skills
ITIL problem management training
Next to Desktop Support, we saw that one of Canada's Top IT Job Roles was a Project Manager for Infrastructures, and was next in demand; up 56% form one year ago. Helpdesk Support Microsoft, Architect and Data Analyst fall next in line with increases of 48%, 16% and 9% from one year ago, respectively. For more roles that were in demand during the second quarter of 2012, please see below.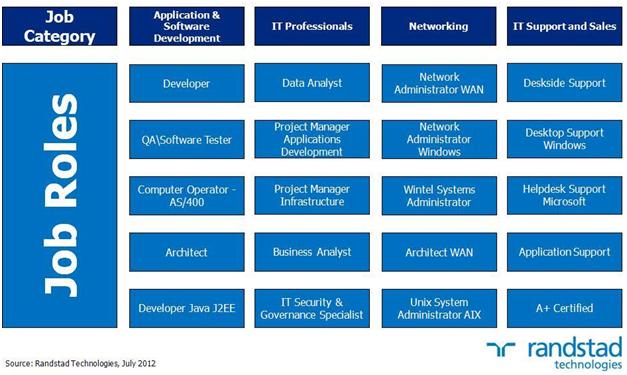 Click here to search for the latest job opportunities in Canada's top IT job roles.