We are excited to announce that Staffing Industry Analysts, the leading global advisor on contingent work, has released the 2012 list of largest Canadian staffing firms, and Randstad Canada has topped the list for the fourth year in a row!
Randstad Canada Ranked #1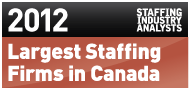 As companies and job seekers increasingly look for strategic recruitment solutions, whether for staffing, for professional specialties or for recruitment process outsourcing and managed services, Randstad Canada is creating a powerful growth engine in the staffing industry that offers the best combination of people, resources, experience, recruiting ability, world-class insight, and customer understanding.
We strive to continually meet and exceed the needs of our clients and candidates. By establishing strong relationships, we gain a deeper knowledge of their unique requirements, allowing us to consistently deliver our services to help them achieve their goals. Our personal approach makes us a distinguished provider in this industry.
We are proud of our continued growth while still holding true to the core values that drive how we do business. For 2012, Staffing Industry Analysts project that the Canadian staffing industry will grow 9 percent. As our industry continues to expand, Randstad Canada is excited to grow along with it and we are poised to meet Canada's growing staffing needs and to continue to shape the world of work.
*The annual list includes 23 staffing firms with C$50 million or more in 2011 staffing revenue, totaling C$4.1 billion. The data included in the report was collected through an online survey conducted March through June of this year.
By Jan Hein Bax