Project managers are, in fact, a lot like superheroes. Called upon when there's a dire need, they manage resources and achieve specific goals within a tight deadline.
Project managers are valued for their versatility, ability to prioritize, and ability to coordinate in order to achieve a strategic vision. So how does that translate into a resume? Well if Batman was applying for a position, this is what his Project Manager resume sample would look like.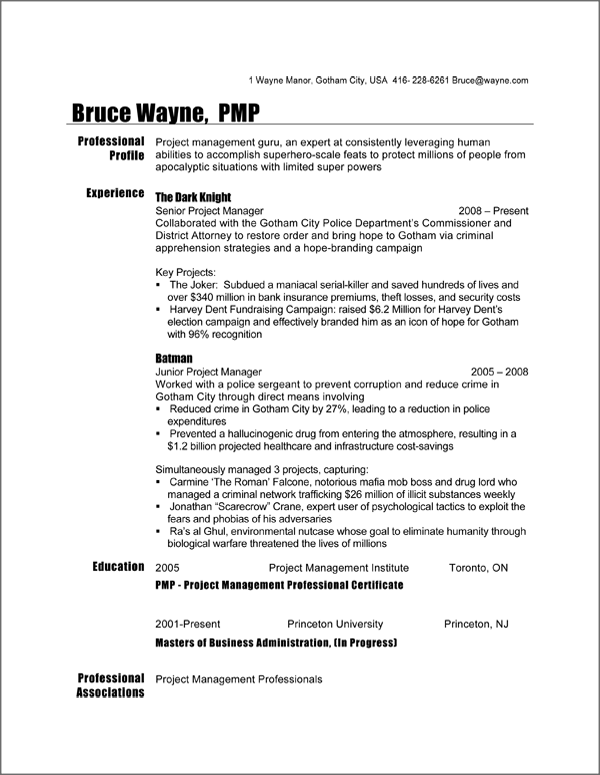 Here are several key tips to take away from Batman's Project Manager resume sample.
Highlight key projects
A project manager's resume differs from a typical resume because you cannot just go over broad general duties and accomplishments, since what you're doing varies from project to project. Have specific bullet points for each key project and briefly highlight the scale and accomplishments from each. This will showcase your range and versatility, while making it easier for the hiring manager to understand exactly what you did.
Emphasize Impact Using Numbers
As you can see in the Dark Knight's project manager resume sample, he emphasizes the contributions he made to each project quantitatively. This means one thing; use numbers!
Project Scale
To emphasize project scale, it's usually easiest to use financial numbers to illustrate the scale of your project. Use numbers such as the budget you dealt with, but also the number of people/employees it's targeted to effect.
Impact of Measures
The impact of your efforts must also be quantified for the hiring manager to fully grasp how successful you were in achieving your goals. Use figures such as, cost-savings (real and projected), resulting time-cost savings, and if you succeeded under-budget to make your project manager resume.
List Professional Designations
If you have PMP, Six Sigma, an MBA, or any other relevant designation, list them immediately after your name. Batman did this in his project manager resume sample so that the hiring manager will immediately see something that sets him apart from the rest of the applicants and will be more inclined to further examine his project manager resume sample.
Read Walter White's Engineering Resume example!
Click here to use your new project manager resume sample to apply to project manager jobs!