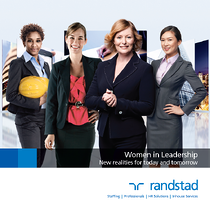 A national Randstad Canada survey, Women in Leadership, of 500 female managers and executives reveals that while female leaders feel progress has been made, there remains much to be done. Their perceptions of obstacles – including outdated stereotypes about female managers, lack of mentoring and lack of workplace accommodation for family – are reinforced by other research.
We have come a long way – in 1980, women earned 60.2% of men's wages and accounted for 35% of the workforce. Now, women earn 81% of men's wages and women make up 46.4 % of the US labour force. When all factors are held constant – education, years of experience and so on, women still earn less than men. A report released recently by Ryerson University's Diversity Institute called DiversityLeads also shows that women are significantly under-represented in the senior most positions in virtually every sector. Similar to the perceptions noted in Randstad Canada's survery, it also confirms that notions of leadership are highly gendered and stereotypes persist. Women are less likely to promote themselves and their achievements. When they are successful, they are more likely to credit the team or circumstance and when they fail, they are more likely to blame themselves. Ironically, when women exhibit characteristics which are associated with leadership – confidence, self-reliance, dominance, self-promotion – they may face a backlash and criticism. They are held to a higher standard of "likeability" than men.
In spite of these challenges, however, we see women rising to the top in greater numbers than ever before. The Diversity Institute's profiles of successful women reveal strategies that can help advance other women. Some of the tips include:
- Focus on results. There is no substitute for performance.
- Take a hard cold and objective look at your strengths and weaknesses. Capitalize on the strengths, address the gaps.
- Develop and nurture networks. Be sure you are known and have access to the "unspoken rules"
- Find a mentor, be a mentor. Both are great ways to learn.
- "Display your excellence." Many women do not promote their accomplishments. You cannot assume because you work hard that people know what you do.
- Make demands and learn to negotiate. Lots of research indicates that men are more likely to ask for what they think they deserve.
- Be an ally not a bystander. The challenges experienced by women are shared by others – visible minorities, aboriginal people, people with disabilities and different sexual orientations – standup for others and they will stand up for you.
- Take risks but judge how far to "push the envelope" and pick your battles.
By Wendy Cukier, Vice President Research and Innovation, Ryerson University and Founder, Ryerson's Diversity Institute