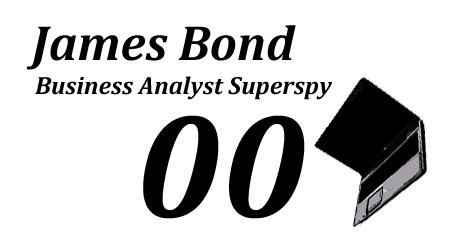 In times of dire need the secret service calls upon Bond, James Bond. In times of dire need an organization calls upon an Analyst, a Business Analyst.
A Business Analyst's role is actually very similar to that of an International Super Spy.
Like James Bond, Business Analysts gather data, analyze the data to create a plan of action, and communicate the plan so that it can be effectively executed.
In fact if James Bond were applying for a job this is what his Business Analyst Resume Sample would look like.
There are a few crucial things that can be gathered from James Bond's Business Analyst Resume Sample.
Emphasize your ability to communicate effectively
A business analyst is usually the person within a project or organization that explains very technical aspects to those who may not be so technically-inclined. It is their job to turn complex data and concepts, into dollars by communicating with vendors, IT departments, and business stakeholders. So a business analyst is expected to be a good communicator. James Bond displays his exceptional communication abilities by including his discussions and Joint Application Design (JAD) sessions with Q, the Head of Research & Development.
Showcase your research abilities
Typically, in a business analyst role, you will have to deal with quite a bit of data and documentation -take this opportunity to showcase your expertise in gathering requirements, researching and documenting existing Business Processes, workflows and developing project management templates! Provide examples of how you uncovered threats and opportunities to an organization and implemented an action plan that led to results.
Certification/Skills
If you are a Certified Business Analyst Professional, PMP, have an MBA, or any other applicable designation or certification, ensure you list them immediately after your name! In Bond's business analyst resume sample, he does this so that it immediately catches your eye, ensuring that a potential hiring manager is hooked and will want to further examine his business analyst resume sample.
Opportunities
Today, there are many opportunities for Business Analysts. In a world where the amount of data is exponentially increasing, where technology is constantly evolving, and where knowledge and implementation decides the winner – organizations need business analysts.
Click here to use your new business analyst resume sample to apply for business analyst jobs!