So you are on LinkedIn. Most professionals are, including your colleagues, your prospects, and of course recruiters. In fact, in Canada alone there are over six million professional profiles on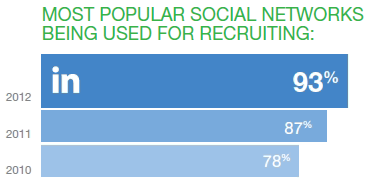 LinkedIn and a recent study by Jobvite shows that 93% of recruiters are using LinkedIn to find candidates.
But if you want recruiters to find you, your profile needs to be visible and effective. Having the right LinkedIn keywords in the right place can make all the difference.
Unfortunately, if your profile isn't visible, recruiters may never find you and if by some chance they stumble across your profile, if it doesn't stand out, they will pass you by.
Follow these LinkedIn profile tips to appear in targeted searches and increase your visibility.
The following checklist will show you how to optimize your profile with LinkedIn keywords so you will appear higher in relevant searches. The first thing you need to do is pick the right keyword! Either a relevant job title or skillset is a great place to start.
Wondering whether you should use a job title or skillset as your main keyword?
Think about what the skill or job title you want to be found for is. If you are interested in new opportunities that match your current job title, for example, the job title is a great place to start. But if it is a new role you are looking to move into, that can be more difficult to optimize your profile for, so its best to focus on a skillset.
For example, if your current role is a "Project Manager" and you are interested in new project manager job opportunities you should pick this keyword.
Or maybe you are only a project coordinator but want to move into a project manager role, then it might be best to optimize for a skillset like "PMP Certified."
TIP: If you are going to pick a skillset, use LinkedIn's Skills and Expertise Tool to see how popular your targeted skillset is (it even provides other related skillsets that might prove to be an even better choice than the one you had in mind!).
Once you've selected the best keyword for you, it's time to strategically place it throughout your profile. Make sure you:
Select a relevant keyword that you want to be found for.


Search this keyword before making edits to your profile to see where you come up.


Include the keyword in the following areas:

Your Headline

Don't just include your keyword here; make it catchy, relevant, and interesting - you have room to play. And don't forget about your image! It is the first thing people see when you show up in searches, so make it clickable!
Your summary
In the first paragraph at least, and anywhere from 1-3 times depending on the length of your summary.
Your specialties
If you have this section (new profiles only have the skills section), include a list of all the top keywords you want to be found for
Your experience
If a job title is your keyword, this is easy, it is your job title, but in the section describing what you do or did in this position, feel free to repeat the keyword one more time (this is also a section you can easily include a skillset, if that is your targeted keyword).
Skills
Make sure you include your main targeted keyword but don't forget to include all of the other related keywords! These keywords will help you come up in searches on linkedin, and in fact, you should include all 50! It's easy when you use the LinkedIn tool!
Other sections including Publications and Certifications can't hurt!
Then search this keyword in LinkedIn again and see where you come up. You should be a lot higher!
Watch how many times you show up in searches and how many views you get, this should grow quickly!
Remember, search for yourself before and after you make the edits and see where you show up! Good luck and let us know how these tips work for you! Please leave your comments below.
Click here for more tips on how to build a good LinkedIn profile.