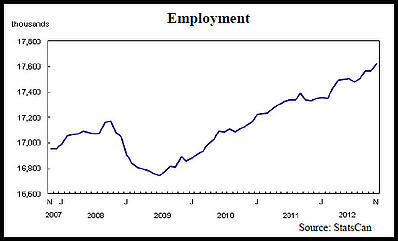 Canada's employment trends have been released by StatsCan and show an increase of 59,000 jobs in November, mainly in full-time work. Along with this growth in employment comes a decrease in the unemployment rate, down 0.2% to 7.2%.
As the Canadian economy experiences growth, Randstad Canada also reports several gains in the month of November. Randstad Canada's Accounting and Finance Support and Finance & Accounting divisions grew 88% and 27% in job demand respectively, when compared to the previous month. In line with these divisions are also gains within permanent hiring, where permanent hiring saw an increase in demand of 26%.
When compared to one year ago, November 2012 saw a 4% growth in the number of open job roles, where contract demand increased slightly by 1% and permanent demand increased by 15%. These increases are reflective of the increases that several of our divisions experienced in November when compared to one year ago. Administrative Support increased in demand by 43%, Finance & Accounting increased by 10%, Industrial Support increased by 55% and Technologies increased by 15%.
On a regional level, Randstad Canada saw gains scattered throughout Canada. Among the top regions includes cities from Ontario, Quebec and Vancouver. When compared to the previous month, Mississauga experienced a significant increase, nearly doubling demand in November. After Mississauga, Brantford also experience a significant increase of 80% and Sainte-Therese of 39%. Lastly, among the top gains includes Burnaby and Kitchener/Waterloo which experienced gains of 37% and 30% respectively.
Finally, Randstad Canada saw several industry gain momentum in November. Randstad Canada's top industries in November, based on growth in demand for job roles, was Metals and Metallurgy increasing 91%, Telecommunications increasing 51%, Computer Software & Services increasing 35%, Insurance increasing 23%, and Call Centre's increasing 15%.