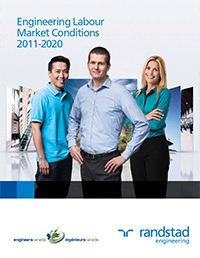 We are once again excited to share the latest report commissioned by Randstad Engineering and Engineers Canada entitled Engineering Labour Market Conditions 2011–2020! As the country's leading experts in staffing, recruitment and HR services, we are thrilled to partner with Engineers Canada once again and offer localized labour market information on the future needs of the engineering industry. This 2012 update takes an in-depth look at the country's current and projected engineering labour market conditions and engineering trends.

It includes a detailed forecast of the markets, key projects, along with changes in output and employment, across Canada, from 2011 to 2020. It also features a thorough outlook that factors in economic and industry growth along with retirements and skill sets.
From the report, we can conclude that there are an abundance of Canadians seeking work as engineers co-existing with an acute shortage of engineering skills. There are at least three market realities that contribute to this situation:

1. For much of the coming decade, there will be moderate supply pressures in many markets. There is a growing regional demand imbalance with tighter markets in the west while markets are weaker in the east;
2. Requirements to replace retiring engineers far exceed the number of new jobs created by economic growth. This contributes to a skills shortage that is most acute for specialized engineers with over ten years of experience;
3. There is an abundance of young engineering students enrolled in and completing engineering programs but lacking practical skills. As this labour pool grows, there will be a comparable increase in engineers arriving as Temporary Foreign Workers to fill job vacancies. Many of the Temporary Foreign Workers will stay in Canada permanently.

The shortage of highly skilled professionals is undeniably contributing to the challenges faced by Canada's engineering industry. In order to ensure competitiveness and benefit the future growth and prosperity of tomorrow's engineering workforce, it's important to fully understand the current and future needs of the industry. This valuable research is critical to taking us one step closer to addressing these industry challenges head-on.
Click on the link to access the complete engineering report.