Importance of Work-Life Balance – Fact or Fiction?
Most of us are working longer hours than ever before. Thanks in part to the introduction of the smart phone, Wi-Fi and increasingly portable computer technology, the boundaries between "personal time" and "work time" are becoming blurred. Is this becoming a problem? It depends on who you ask. Some of us obviously "live to work" and others see our careers as but one part of our busy lives.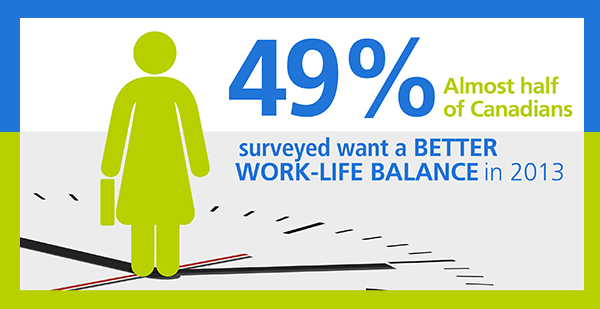 Randstad's own data demonstrates that almost half of Canadians surveyed want a better work-life balance.
According to a recent survey, close to two thirds of Canadians are working more than 45 hours a week – 50 percent more than 20 years ago.
However an article on the Harvard Business Review blog asks readers to "embrace work-life imbalance."
The article states, "Overworking is really only possible if you are not having fun at work. By the same token, any amount of work will be dull if you are not engaged, or if you find your work unfulfilling." Technology, the blog post notes, "…hasn't ruined your work-life balance, it has simply exposed how boring your work and your life used to be." Others however, disagree, and point to factors including increased stress, burn-out, and physical and mental illnesses.
Employees with young children often feel the brunt of competing work and family demands. More than 25 percent of survey respondents had no children, having made the decision to put their careers first. Participants without children were much younger than the survey average, which according to one of the survey's authors, Professor Linda Duxbury of Carleton University, was "a way to satisfy work demands."
Mental health issues are also part of the equation, both in the workplace and in society as a whole. According to a recent Ipsos Reid poll, 20 percent of Canadian workers are experiencing depression. Further clarification comes from a study released in 2011 by the Mental Health Commission of Canada, the National Standard of Canada for Psychological Health and Safety in the Workplace.
The Standard suggests that in order for workplaces to be psychologically safe, "self-esteem needs" must be met and workers need to "…feel rewarded in terms of praise, recognition and acknowledgment of and credit for their contributions." The Standard also suggests that psychological health is compromised in workplaces "…where work is distributed inequitably."
So how do you feel about work-life balance? I can share my thoughts after I go pick up my kids!
By Mark Klein