Changes to financial services regulation are catching some Canadian companies off guard.
More than 25 per cent of Canadian financial services providers are either "not very" or "not at all" prepared for upcoming regulatory changes, according to a recent survey conducted by Randstad Canada in conjunction with Ipsos Reid.
While the remaining 73 per cent feel their workplaces are prepared, when asked personally, the majority of respondents said that these changes will either have no impact, a negative impact or they are unsure of the type of impact the changes will have.
What that tells us, is that employers will be looking to hire talented individuals with experience navigating through the most recent changes to the regulatory regime as part of their risk management strategies.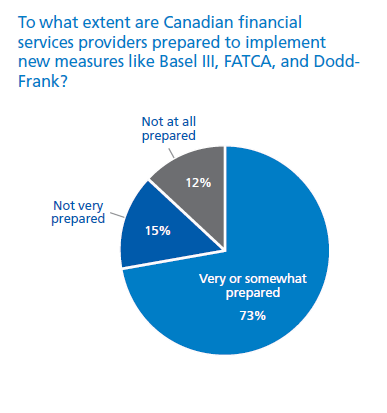 These changes are affecting everything from how financial service companies can market their products all the way to the structure of various regulating agencies.
Have you read Dodd-Frank yet? What about Basel III, ORSA/Solvency II, or the changes to FATCA? These may have a profound impact on your job, your business and your industry.
Over 300 finance professionals in Canada working in Operations, Management, Risk Management, Governance, and Regulatory Affairs were asked if their organizations were ready for the changes and what type of effect those changes were going to have on business results.
The survey results indicate that some organizations could be doing a better job of communicating the impact of these changes on risk management programs and strategies through their organizations.
Of the respondents polled, 30 per cent of those familiar with the upcoming changes felt that new measures being put in place will have a positive impact on the business results of their organization, while one-in-five (21 per cent) felt they will have no impact. A further 22 per cent responded that they were unsure of how these new measures will impact their business results and 27 per cent felt that they'd impact negatively.
When asked about business performance the negativity was clearer, with a full third (35 per cent) anticipating that the changes with have a negative effect on business performance.
These changes are coming quickly and it is the organizations that are most prepared are going to fair the best.
You can request a copy of our full report and read a more detailed analysis the study here.