By James Rubec
According to Statistics Canada's May 2013 Labour Force Survey, employment rose by 95,000 jobs in May, with most of the increase in full-time work. With months of simmering tension Canada's construction industry finally boiled over into increases in permanent employment. This is enormous, the country hasn't seen gains like this in at least 10-years.
The CBC put it best, they have Scotiabank quoted saying, "'It is equivalent to the U.S. adding over one million jobs in a single month,'."
Read the full survey on Canadian employment numbers here.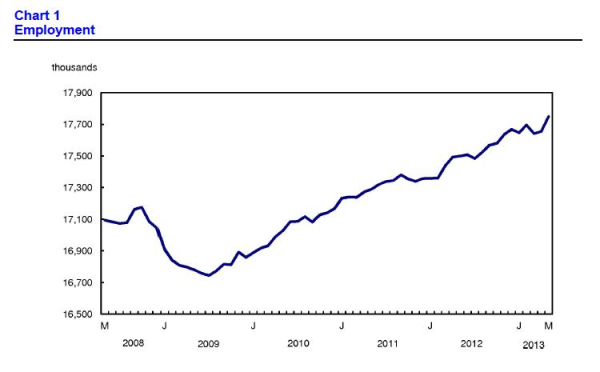 The monthly Labour Force Survey produced by the government also tracks the type of work, either full or part time. Compared to last year, Statistics Canada saw employment grow 1.4% or 250,000, all in full-time work.Meanwhile the United States has released numbers that show their unemployment rate actually rose to 7.6%.
Randstad Canada Sees Job Growth Parallel to Stats Can
Similarly, Randstad observes strong increases in demand in Central and Western Canada. In Ontario, Manitoba and Calgary, Randstad internally saw demand increase, by 18%, 36.5% and 35% respectively.
The gains in Western Canada were largely due to increased demand in Engineering, Industrial support and in the case of Ontario, Skilled Trades and Industrial Management.
In Ontario alone we saw increases of almost 50% in Industrial Support, and 37% in the trades and their management. Just looking around Ottawa and Toronto over the last few weeks I've seen a lot of construction.
Sure we're into construction season on our roads, but look at the new buildings, the skyscrapers, condo developments in Ottawa's core, or infrastructure projects on bridges in both cities.
Special mention to Calgary
In response to the Labour Force Survey, Randstad Canada runs its own internal statistics and compares them with Stats Can's. Sometimes we see a city that is heads and tails about the others and this month we saw enormous increase in deman in Calgary. Earlier I mentioned a 35% increase in overall demand, but when you break it down the numbers get more amazing, with Calgary clocking increases for demand in engineering of 121.82%.
Construction and Engineering in the Rest of Canada
When we look at our numbers in British Columbia and Alberta we're seeing huge gains in Engineering, with BC seeing an increase of demand of 100%, Manitoba saw strong gains too with Technologies seeing an increase of 70% over the previous month.
These investments in hard construction and engineering will later become job growth in other sectors. They are building structures to support something and where there are buildings there are people working.
I'm personally optimistic and carefully watching this upward trend as it climbs throughout the summer.