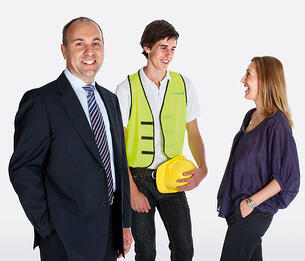 How To Make The Most Of Temporary Work
Because an average job search in today's economy can take five months or more, temporary work has become a life raft for those who need funds while in transition from one job to another. However, used the right way it can also be a solid bridge to a great new position.
Employers still use temporary workers as a way to help complete extra work or large projects, but today's companies hire temp workers at all levels as a way to preview their skills and commitment before hiring them in a permanent role. Yet, even if you're not in a "temp to hire" situation, the experience and connections of a temporary job can help you land a full-time position in any number of companies.
To make either situation come to pass, you need to understand and follow some basic guidelines while doing temporary work.
Remember people are watching. They're assessing whether to hire you or to recommend you to another organization. This means you need to be on top of your game not only in your job performance but in your attendance and arrival time. When you're at work, work. Keep your personal phone calls and other distractions to a minimum when you're on the clock.
Go above and beyond--without being asked. The more initiative you show and the more work you do will show everyone what great skills and motivation you have.
Don't be afraid to ask questions, but hold off until you've tried everything on your own to figure something out. Then you can approach someone with, "I tried X, Y, and Z to make this work, but I'm stuck. Could you give me some advice?" This shows that you're not afraid to take a risk and also know when to ask for help.
Make connections with your co-workers, particularly your manager or supervisor. Get to know people on a personal level over lunch or a coffee break. Share your background with them and ask them about their skills and experience. This can be a critical part of getting hired or getting a reference for another job.
Be humble and keep an open mind. You might be doing temporary work that you think is "beneath" you, but you can choose to learn something from every experience. Don't tell people you're just working temp while you search for a "real" job. You'll come off as a snob. Instead, show people you're a hard worker and when the time is right tell them your situation. If you've made a good impression, they'll be more likely to recommend you for work in any company.
Whether you hope to be hired by the current company or find a role somewhere else, the experience and connections of a temporary role, combined with a great attitude and work ethic, can take you just about anywhere you want to go.