Breaking Bad: Walter White's Engineer Resume
As the final Breaking Bad Season comes to an end and we prepare to watch the last Breaking Bad episode we at Randstad Canada wanted to say farewell to Walter White with thoughts about our favourite chemistry teacher-turned king-ping's theoretical employment opportunities.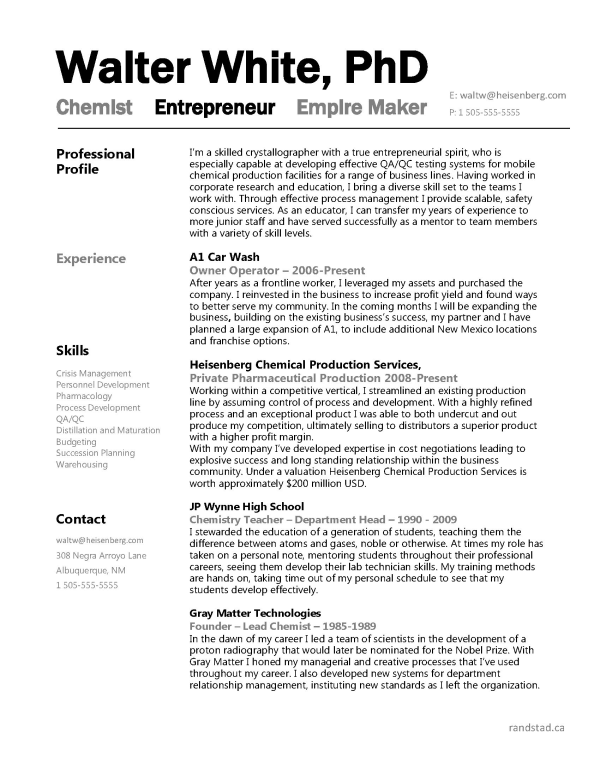 As trained chemist with a PhD and a variety of sources of experience, Walter White might be the most employable anti-hero on TV. Either in education or as a lead chemist in a manufacturing facility or at an engineering firm, a man with his intelligence and entrepreneurial drive could be a valuable team member in a variety of industries.
Sometimes when recruiting for engineering roles, the addition of hands on skills in manufacturing can tip the scales from being interviewed, to being hired. With Canada's experience gap and labour shortage in engineering, it is likely that Walter White would be picked up quickly. You can learn more about the labour shortage from a study we conducted with with Engineers Canada.
What sets Walter White apart is his strong personal track record of education, a series of valuable management references and the continuity of his resume - having been employed gainfully for over 25-years.
In the meantime, ask yourself would you hire Walter White? Share your thought with us. And if you liked Walter's resume, check out Batman's Project Manager Resume!