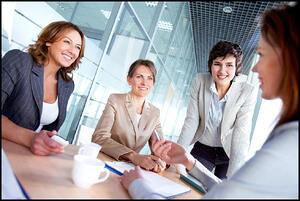 Win an iPad and help us nominate an inspiring female leader!
For the second year running, Randstad Canada is launching an award to help recognize the impact that women make in the business world: Women Shaping Business 2013. And you can get involved!
Go to our Facebook page, tell us what woman inspires you and how she has impacted your business or community. After we reach out to you for your contact information, you will automatically be entered for your chance to win an iPad for yourself and a donation in kind to a national women's charity of your choice, in the sum of $10,000 from Randstad Canada!
Good Luck!
Rules and Regulations
Rules for 2013 Randstad Interim Inc. (hereinafter "Randstad Canada) Women Shaping Business Award
1. Contest starts at 9:00 a.m. on September 30, 2013 and continues until 11:59 p.m. on December 1, 2013 (the "Contest Closing Date"). All times are Eastern. To enter, nominators and nominees must be a or have been a Canadian citizen and resident and entries must be submitted digitally via the submission sections. Individuals may provide up to three submissions.
2. The winner will be determined on December 5, 2013, by an independent panel of judges, with the individual who is nominated being recognized by Randstad Canada as the Women Shaping Business 2013 Award Winner. She will be presented the award at a future Women Shaping Business event, in 2014. Randstad Canada reserves the right to publish select entries.
3. Participants are eligible to win a donation in kind to a national women's charity of their choice, in the sum of $10,000 from Randstad Canada. This is not redeemable for its cash value and is non-transferable
4. The donations must be accepted as awarded and may not be transferred or exchanged. Randstad Canada reserves the right to substitute a donation of at least equal value in the event of the unavailability, for whatever reason, of the advertised donation.
5. By entering this contest, entrants consent to the use of their entry, name, city of residence and/or any photograph, video or audio of or that may be taken in publicity carried out by Randstad Canada and/or its advertising agencies, without further notice or compensation.
6. This contest is open to residents of Canada, who are over the age of majority in their province or territory of residence and excludes employees of Randstad Canada, its parent and affiliated companies, representatives, dealers and agents, contest suppliers and judges, and those with whom they are domiciled. The contest is subject to all applicable federal, provincial and municipal laws and regulations.
7. No communications will be entered into except with selected winner. To receive a copy of the list of the winners, send a postage-paid, self-addressed envelope on or before the Contest Closing Date to Randstad Canada, Attention: Marketing Department, 60 Bloor Street West, Suite 1400, Toronto, Ontario M4W 3B8.
8. All entries that are incomplete, illegible, damaged, irregular, have been submitted through illicit means, or do not conform to or satisfy any condition of the rules may be disqualified by Randstad Canada. Randstad Canada takes no responsibility for lost, stolen, delayed, damaged, misdirected, late or destroyed entries, or for typographical or other production errors. Randstad Canada is not responsible for any errors or omissions in printing or advertising this contest. All entries become the property of Randstad Canada and will not be returned.
9. Randstad Canada is collecting personal data about entrants for the purpose of administering this contest.
10. By entering this contest, entrants release and hold harmless Randstad Canada, its advertising and promotional agencies and the contest judge(s), their affiliates and respective directors, officers, owners, partners, employees, agents, dealers, representatives, successors and assigns (collectively the "Releasees") from any liability in connection with this contest or, if declared a winner, the prize(s). Before being declared a winner, entrants may be required to sign and return, within a stipulated period of time, a Declaration of Compliance with the Contest Rules and a full Liability and Publicity Release. By accepting a prize, winners consent to the use of their name, place of residence, voice, statements, photographs or other likenesses for publicity, advertising or informational purposes in any medium or format without further compensation or notice.
11. This contest will be run in accordance with these rules, subject to amendment by Randstad Canada. Contestants must comply with these rules, and will be deemed to have received and understood the rules by participating in the contest. The terms of this contest, as set out in these rules, are not subject to amendment or counter-offer, except as set out herein.