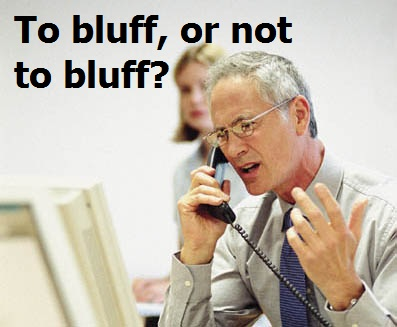 The world of work is full of questions, misconceptions, myths and mysteries. To help shed light and answer these, the Randstad Blog, is starting the Advice@RandstadCanada Series, where we'll endeavor to personally answer as many of your questions on employment related topics as we can.
Read our first reply to, whether to go back to school, or start your career to grow your skills.
Submit your questions to social@randstad.ca, on Twitter, or in a comment to this post!
Bluffing a new job offer when asking for a raise? No, don't do it.
When you're looking for a raise, you are entering into a negotiation. Relationships are built on trust, when you sit down with your manager and start speaking about a raise, lying to them to gain leverage is a terrible idea for three reasons.
You are helping your boss imagine living without you: The question is how valuable are you? If you believe you are worth X and they believe you are worth Y, if Y is less than X, then instead of getting a raise you risk being let go. Unless you're a world leading heart surgeon, or someone with an extremely niched skill set you're probably replaceable and your manager receives resumes all of the time.

Let's say this bluff does work: Now you've lied to your boss and it worked. The question in their mind now is "Does this guy, really want to be here anymore". The bluff might have work for a short term gain; it might drop you out of the running for a real promotion or future investment in training.

And then the bluff fails: You'd be surprised at the breadth and reach of your boss's network. Imagine how embarrassed you'd be if when you tell your boss that you have another offer, he asks with who? You can say "none of your business", you can lie and say the competition. In either case it doesn't look good for you. Take it a step farther, you have lied and he then asks you who you're speaking with at the competition, is it Bob or Jill? What are you going to say? What if he knows them?
If you aren't able to get a raise by through your own merits it might be that you aren't communicating your successes well enough. If you've gained new skills, or achieved something impressive and repeatable you deserve a raise; getting one is a matter of proving your continued value.
In the case you do have another job offer and you walk into a raise request and are bold enough to bring it up; be sure that job is a lock before dropping that bomb.
Don't lie to your boss; she probably has a better poker face than you do and if you're threatening to leave in when the heat is on for your department, be sure to remember what goes around, comes around.
What have you done to get a raise? Share your stories with us on Twitter @RandstadCanada.