5- Management tips great employers use when a team member resigns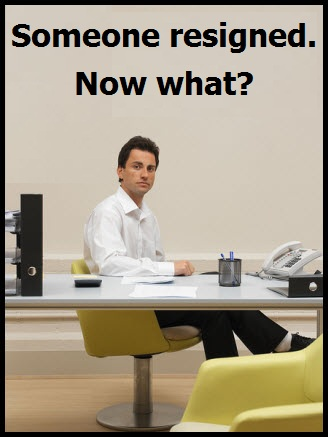 Resigning from a role is never easy. This is especially true when you've built strong relationships and done great work for a boss and business. Resignation isn't a time to be vindictive or curt, it is a time for great employers to solidify their impact with the exiting employee and to showcase their management and planning skills to new and existing team members.
1. Be genuinely interested in employee's future:
Taking the high road and being polite and interested with the exiting employee will help you learn more about why they are leaving and how to change your management for the better in the future. Treating an employee like they are dead to you when they resign will only demoralize them, your remaining team and yourself.
2. Write a thorough recommendation on Linkedin:
Unless this employee was in the doghouse prior to resignation it can make a world of difference in their future job hunt, or to their long term memory of their experience with the business to receive a full recommendation from their manager. This benefits your employer brand and will help keep the lines of communication open with the resigning employee. People are more likely to shift jobs today and the time might come when they'll be willing to shift back into a position with your brand.
3. Helps employees deploy a succession plan:
Whether this is just providing them with guidelines as to knowledge transfer of current projects or time to connect a new hire with existing internal and external contacts, giving the departing team member, and the remaining team some guidelines of what to prepare for will help the team and your sanity. Your best employees will have most of this mapped out already, but making the transition from employed to resigned as easy as possible will make them feel better and will give your team more support training the new guy.
4. Negotiates timeline to not overload remaining team members:
Unless the employee is moving to a direct competitor the timing of the full resignation should be negotiable. Most people have an idea of when they plan to leave and discussing this openly can make for a smoother transition for them and for the rest of your team. An abrupt ending to a work relationship can leave existing team members confused and will leave a good employer in the lurch asking them to take on extra duties for weeks at a time.
5. Host a goodbye, lunch, drinks, potluck … something:
Teams like closure and an event bringing to an end a strong healthy work relationship is cathartic. If you've planned it right, this can also be a chance for you to welcome the new team member on board and hash out the final steps in the succession plan.
Share how your best boss reacted when you resigned with us on Twitter RandstadCanada.