5 - Canadian Defence Engineering Achievements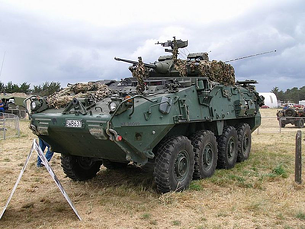 Canada's defence engineering industry has long provided Canadians with permanent roles as engineers, mechanics, designers and machinists.
Veteran Canadian engineering firm, General Dynamics Land Systems Canada (GDLSC) announced last week that it was won a contract to produce armoured vehicles for a client in Saudi Arabia to the tune of $10 to $14 billion dollars over 14-years. The Canadian manufacturer and innovator has operated for the past 66-years, and this big-win, will translate into 3,000 new jobs in the Canadian economy. This is one of the biggest deals in Canadian history.
This is the perfect opportunity to look back on some of Canada's proudest defence engineering achievements.
1. Portable Walkie-Talkies
Warfare and the completion of large-scale engineering projects wouldn't be the same without a tool that lets people communicate on the go. Long before cell phones, radio transmission was an effective way of doing this. Canadian engineering Donald L. Hings M.B.E., patented the first portal walkie-talkies in 1942. The system he engineered has undergone changes, but its fundamentals are still used by municipalities, construction firms and army units to this day.
2. SONAR
In 1912, after the sinking of the Titanic, engineers in around the work began developing tools using sound to track incoming objects, vessels or munitions. Canadian engineer Reginald Fessenden worked on an experimental system at the time while working at the Submarine Signal Company in Boston. What he developed eventually became what we now know as SONAR. Application of this tool has impacted more than warfare, by improving transportation safety, mapping the ocean floor and impacting the study of plate-tectonics. Like the advancements of the portable radio, SONAR has undergone few drastic changes it fundamental technology since 1912.
3. G-Suit
In a few short decades after establishing the first human flight at Kitty Hawk, flight engineers began facing the limitations of the human body. We can only handle so many G-forces before we black-out. Losing consciousness is bad when operating any vehicle, let alone one loaded with bombs travelling greater than the speed of sound. Addressing this problem, was a team led by Wilbur R. Franks at the University of Toronto in 1941. The practical applications of this extended to spaceflight as well as jet fighting and rapid commercial transport.
4. The Avro-Arrow
Speaking of jet fighting, The Avro-Arrow was in development in the 1950s, while its decommissioning and later scrapping is a point of deep political contention, the jet-fighter's importance to Canadian military engineering isn't. The Arrow was the height of flight engineering at the time, breaking speed altitude records in the process. The engineering team which was disbanded when the project was scrapped went on to work for NASA, just in time to help put men on the Moon.
5. Advanced Artificial Limbs
Canadian companies and engineering teams have long lead the way in terms of prosthetic robotics. This continues with Dr. Kevin Englehart, P.Eng.,'s at the University of New Brunswick and his development of brain to body connections in the connecting prosthetics to the human body. His advancements in connecting muscles and nerve fibers to prosthesis have advanced how veterans and all Canadians recover from limb loss.
Engineering jobs in Canada
Randstad Canada features hundreds of employment opportunities for experienced engineers in all fields including defence engineering, telecommunications, aerospace and oil and gas engineering.
If you are an engineer and are looking for a new career,visit http://randstad.ca/engineering/ today and get your job search started.