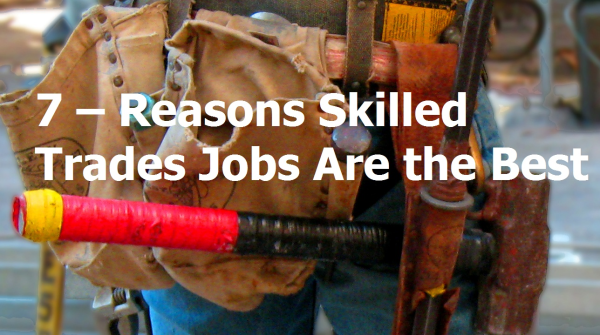 Photo credit - Baytown Bert Marshall
Welders, electricians, millwrights and mechanics have some of the most rewarding and needed jobs in Canada, but a new study from Randstad Canada shows that perceptions about these trades' jobs are one of the reasons these important jobs remain vacant.
A new study by Randstad Canada Labour Trends Study 2014, indicated that Canadians feel that trades work is less respected and older fashioned than white collar work.
"… 79%, survey respondents stated they feel a lack of knowledge in skilled trades has led to less Canadians considering them a career option, while more than three-quarters (76.6%) felt that a perception of skilled trade work being less respected than white collar work."
If you're considering entering the trades, or you have already, here are six things to tell your family about the value, importance and benefits of entering the labour force in the skilled trades.
But why is there such a shortage because we know that jobs in the trades are the best:
Working outside and with your hands is a rewarding and trades jobs pay overtime.

Structured training and mentorship programs, give you a clear idea of where you are at in your professional development.

A skilled trades job can't be offshored, or outsourced.

Office jobs can kill you. Sitting in a desk by some studies is as dangerous as smoking cigarettes.

International certifications through Red Seal Program can set you to work anywhere in the world.

Entrepreneurship and contractor opportunities avail themselves clearly.

Trades jobs often pay better, sooner and are also often represented by unions which further improve wages.
Are Canadian families causing the skill trade's skills shortage?
The study also showed that families are pressuring those attending school to stick to white collar work over the trades. Regionally, Ontarians reported this most often with 69.4% responding they'd been pushed toward white collar work, while Quebecers saw this the least with 52.2% of families intervening.
Before you let anyone tell you that a job in the trades isn't respected, or it won't pay you well, or that you aren't cut out for the work; remember that for more than a decade Canada's federal and provincial governments have been pushing young Canadians into the trades. May be it our families or friends that are pushing back against them.
The jobs are out there, so are the training programs.
Were you pushed into white collar work? Tell us about it on Twitter @RandstadCanada
Do you need more help in your job search, or developing your career? Register with Randstad Canada and get your
job search started today.