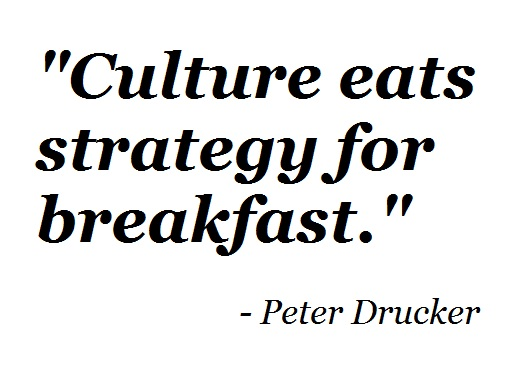 Would you work for the Decepticons just because they paid well?
Peter Drucker the Austrian born American management consultant said, "Culture eats strategy for breakfast."
I first ran into this axiom when I was working at an advertising agency and today in the staffing and recruitment space, I see its relevance more and more.
The culture your brand (or you) espouse determines who listens to you, what they say about the work you do later and will in the long run will either help or hurt your hiring and recruitment efforts.
There is an art to all of this in the recruitment space, just as it is in advertising agency land – it is called employer branding.
Employer branding is a mixture of culture and strategy; it is the strategy of deploying your culture - while this is a chicken and the egg scenario, Drucker's statement prevails.
5 Reasons Culture Eats Strategy for Breakfast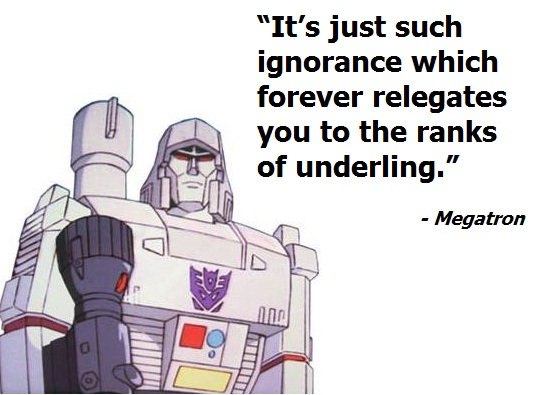 Anyone can pay competitively: The Decepticons might be offering a competitive total rewards package, but would you want to work for Megatron? The culture you establish in your department or organization speaks volumes to quality of your management and the realistic opportunities for growth. If you run your organization as a despotic overlord, good luck!

Work environment and job stability are key and they are tied together: Last year Randstad's employer branding research showed that a positive work environment and job stability were the second and third most important factors in building an attractive employer brand. You can build long term job stability by succeeding in your field and you build a positive work environment by being good to your people. If Canadians perceive job stability as key to a positive employer brand, then ensuring a positive work environment is imperative to that.

Social media becomes your best friend: Every employee in your company can promote your employer brand and they do, just in their own nearly uncontrollable ways. With a positive culture social media becomes filled with photos of interesting projects, fun activities and about positive brand-building statements your people will say about your brand – for free. Your people are your employer brand; they'll live it and speak about it.

Positive culture builds a responsible company: Corporate social responsibility is seen as an important to most employees, a study reported that 3 out of 5 employees want to work somewhere that shares they values. If you don't know what your values are and you don't speak with your people about theirs how can you benefit from this? When you research your own employer brand and begin the process of building it you'll discover what your perceived values are and you can adapt to where your people believe your company should go.

Culture builds organic process: Most importantly with culture comes natural actions that don't need to be mandated, thought about or outlined in a process diagram and presented in a meeting. Strong culture just gets things done. Good people who feel good about the work they are doing happen to do outstanding work.
How do you build culture in your workplace? Share your ideas with us on Twitter @RandstadCanada with the hashtag #RandstadAward.
Learn more about employer branding through the Randstad Award at www.randstadaward.ca.