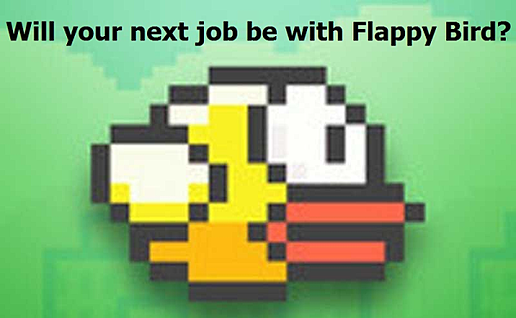 How Games Like Flappy Bird and Candy Crush Create Jobs
Sure it is just one little game on your iPhone but the little games living in the space between your hands and your head are creating jobs and helping drive the new economy.
Flappy Bird today is a one man operation but would it be that hard to imagine a day when the shell-shocked creator of the viral hit game becomes the next Mark Pincus of Zynga fame?
Do you remember when you saw Farmville popup in your Facebook newsfeed? What about Mafia Wars? Well those little games represent a user base of almost 300 million people a month. Zynga started with a small team of fewer than 10 staff; in 2013 the company had over 3,000 full time employees.
Yes, that means Flappy Bird could be employing more people than most manufacturing plants.
The team who made the addictive time-sucker the Candy Crush Saga over at King has been in the game business since 2002 and employs over 600 people in six offices.
And Fruit Ninja the adorable finger swiping fruit destroying iPad game that has been downloaded over 300 million times? Its creator, Halfbrick based in Australia has been making indie-games since 2001 and employees over 60 people.
Games makers hire developers, project managers, marketing leads, copywriters, translators and more. The digital upstarts that built the platform gaming industry started small too.
Think about Nintendo, while it was founded in the late 19th century as a gaming company today it employs over 6,000 people.
Ubisoft, makers of the Splinter Cell and Assassin's Creed fame, has offices in 26 countries and employs over 9,200 people, including a team of 2,100 in a studio in Montreal.
So with the announced return of Flappy Bird to the iOS App store, may be Dong Nguyen, its creator and founder of www.dotgears.com, will be upscaling his business and joining the ranks of the above mentioned gaming icons.
Or, may be his game will fade away to be replaced by another finger frustrating mind number.
What industry do you think will have the most growth this year? Tell us about it on Twitter @RandstadCanada.
Want to get your career in gear, may be even in gaming? Register with Randstad Canada today.
5 Reasons Culture Eats Strategy
for Breakfast