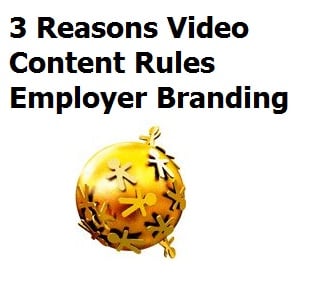 Video has been a powerful tool to promote, propagandize, inform and entertain for over a century. Today company's are using branded online video content to help shape their public image.
Online video content like any content is most valuable when it is widely seen and when it is, it has a powerful effect. Whether you need to build a new brand, improve an existing one, or find specific candidates to work with your company - well produced creative video can help.
Here are some great examples of how.
1. Display Your Best Self as a Brand
Example - WestJet Christmas Miracle Video
This video displays that the owners of WestJet (who happen to be the company's employees) care about people. It also says that they recognize that the holidays are an important time of year and that they'll do whatever it takes to make the experience for their customers the best one possible. In this example, they brought Santa in and made it happen.
WestJet was last year's Canadian Randstad Award winner, which highlights Canada's leading employer brands. They were deemed by over 7,000 Canadians to be the most attractive employer in Canada by an indepedant survey performed last year.
2. Entertains and Informs
Example - John St. Catvertising
John St. managed to display that it understood online culture, (peoples' general affection for feline cinema) while showing off their offices, their internal experts and their ability to produce quality content. For an advertising agency displaying culture is more important to attraction and retention than showing stability, this ad essentially says "If you want to work with forward, creative thinking people who may or may not periodically bring 30 cats into work, this is the place for you".
3. Give Your People the Attention They Deserve
Example - The Canadian National Railway Company Recruitment Videos
Sometimes just showing people the work they'd do and the environment they'd work in is enough to generate discussion and applications. CN produced a series of videos which have generated tens of thousands of views on Youtube and the comments are all extremely positive. They did use cats, or presents but they are getting an effective message across and an article or diagram wouldn't do it as well.
The Canadian National Railway Company ranked 13th in last year's Randstad Award.
Learn more about employer branding and the Top 150 employer brands at www.randstadaward.ca.