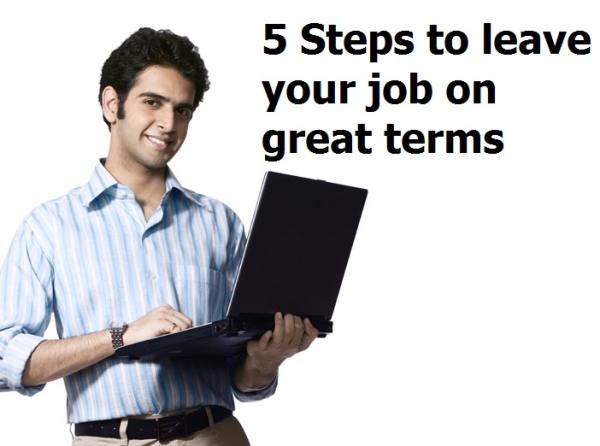 You've seen it before, someone has a brief discussion with their boss and a few minutes later they are packing their desk and being led out by security. They just quit their job badly.
This a guaranteed sign that things ended on less than ideal terms; you don't want to do this. You want a departure to go smoothly, yes, you want a reference, you want your boss to want to keep you.
Change is a good thing, but a disruptive change can have a negative effect on productivity for you ex-team and will damage your job prospects in the future.
It is hard to leave a job, especially one with a good team but for whatever reason when you're planning on making a departure there are a few things you should do, here are the 5 steps to leave your jobs on great terms.
1. Figure out what you're doing
Before you tell anyone other than your partner in life, best friend or your parents figure out your plan. Don't leave yourself in the situation where you are openly planning your departure without having a safety net in place. Telling people you're planning on quitting is a sure fire way to end your career at a particular workplace, forget about that possible promotion, you might just get canned.
2. Discuss it with your employer
Once you've planned out your life around your job change, you should tell your boss. In that talk you should say why you're planning your exit, when you are looking to leave and have a plan around the completion of your current projects in that time. Be prepared for a tough talk, this is never an easy conversation to have.
3. Break it to the team
After you've spoken with your employer about your exit, talk to the team, tell them where you are going and give them some information about your departure but don't be negative about their workplace or about them – be professional this is their workplace too.
4. Finish your work
As best you can bring your projects to an end. Any projects that were planned to be continued provide a concise brief to the new project team or team members who are taking on the project. This is about knowledge transfer and it helps everyone. This is also a great way to build out your resume in the future.
5. Enjoy your goodbye lunch
You'll have missed something along the way, some sort of project may be an email or two left unsent – but ending on good terms with your team is a powerful statement. These people are your friends, they care about you, let them give you a good bye and good luck.
If you are unhappy at your work you need to analyse whether it is your job, your work environment or the people you are having problems with. If it is all of the above you should absolutely plan your exit!
If it is only one person, or one element of your work that you dislike have some honest discussions with your employer and see if you can fix the situation. If that doesn't work, have a backup plan in place first and if you are going over to the competition, good luck making that transition smoothly.
There is a saying, "Always clean the rungs of the ladder on your way up, because you never know when you'll be coming back down."
What was your favourite job that you had to leave? Share your story with us on Twitter @RandstadCanada.