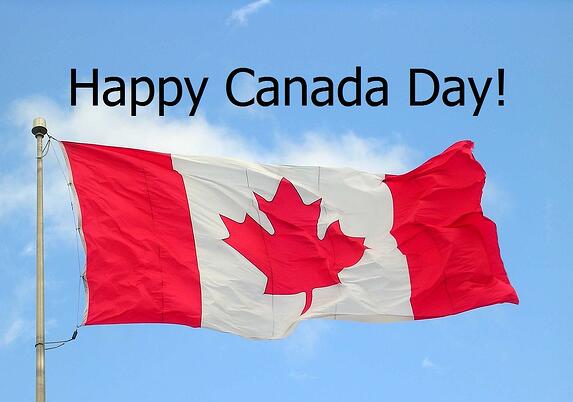 Today is Canada's 147th birthday, well to be precise it is the anniversary of Canada becomng a new federation with its signing of the Constitution Act - formerly known as the British North America Act.
To help celebrate, we took a look at 5 Reasons Canada's Workers Are the Best.
Canadians are among the longest living and hardest working people on Earth surviving on average into our 80s, so when we looked at data from our latest Workmonitor survey which asked Canadians about their fitness and who's responsibility is it to maintain it – we weren't surprised that 96% of Canadians said fitness and wellness was their own responsibility.
Canada is the second largest country and it is filled with dedicated, creative and incredibly well trained people. Here are the 5 Reasons Canada's Workers Are the Best.
1. Canadian's are the best trained in the world
Canadians are rated highest by; meaning college level or higher post-secondary degrees with 51% of our population receiving graduation papers beyond high school. What is even more impressive is that scales predominantly female, as almost 80% of female students who enter post-secondary education complete their degrees.
2. Longer working hours
Canadians work almost 40-hours a week and have ranked among the hardest working, and most productive workers in the world for the past decade. May be it is because Canada is the second largest country in the world and we only have a population 34.8 million; we're compensating.
3. We have great companies to work for
Being a great worker takes having great companies to work for, it is a team effort. Through generations of consistent management of our banks and governments, Canadian workers can work for almost any company in the world here at home. Canada consistently ranks in the top 10 best countries to work in; this gives Canadian workers the chance to gain international experience and the job mobility to build amazing careers.
4. Multicultural, multilingual and multitalented
Through decades of aggressive immigration Canada has one of the most multicultural populations in the world. Toronto, Canada's most populous city is represented by almost 50% first generation Canadians, or people who were born outside of Canada, meanwhile Toronto is one of the most economically robust cities in North America. The cross cultural connections forged by immigration foster a culture of inclusiveness in our workplaces further benefiting that average Canadian worker.
5. We're optimists at heart
It might be the winter that makes us this way we're always hoping for spring, but Canadians are optimistic about their work, job prospects and the companies they work for. Earlier this year when we asked 2,000 Canadians (89%) of those polled expected their company/employer to perform better and more than 50% said they expected to get a raise this year.
How has working in Canada made you a better employee? Share your thoughts with us on Twitter @RandstadCanada.
Are you looking for a job in Canada?


Happy Canada Day!