This week is Administrative Professionals Week, join Randstad in thanking your friends and colleagues for their support and hard work as business support professionals and executive assistants.
From dictation to direction, a profile on today's administrative professionals.
When Nancy Cote, the Vice President of Randstad Canada's Western Division began recruiting administrative assistants for Canadian companies over 27-years ago she was looking for people who could type well, people who would by answer phones, do the filing and book meetings. But now, in 2014 she says that, "Things have changed; they've drastically changed."
To a room of 150 bright eyed men and women beginning their careers as business support professionals at an event at Conestoga College on April 16, 2014, she shared how.
"They (administrative assistants) might have even been making coffee or picking up laundry, anything to make their executive or manager's life easier," said Cote.
The stereotypes aside the role changed in big ways that means that today's admins don't just help one person they are supporting entire companies.
"Sure typing is still important as are computer skills; but the fit and the values that the employee have to match with the organization," said Cote, explaining that "Business support professionals are no longer making coffee as a primary function of their jobs – they aren't picking up laundry – they are providing support in the direction of the organizations they work in. Their values matter more than their typing skills."
Reason 1
"

With Kelli's help in an eight hour day I can get done what would take me 12 or 14 hours," - Tom Turpin Randstad Canada President.
For Randstad Canada's President, Tom Turpin, his administrative assistant, Kelli Cutler is exactly as Nancy described – a communicative expert who helps her executive leader and the organization behind him, achieve more.
With Kelli, the company can get more done: says Randstad Canada President
"With Kelli's help in an eight hour day I can get done what would take me 12 or 14 hours," said Turpin. "Kelli has the unique ability to not only take what gets said in a meeting and carry those marching orders out the rest of the company, but she can also anticipate what needs to be done –she fills in the details on plans and I value her opinion on everything from personnel to strategy."

In Tom's role, he'll have everyone from Randstad's clients, shareholders, corporate leadership from other parts of the company coming at him at the same time all with important priorities all of them impacting the business in one way or another.
Reason 2
Admins keep things from falling through the cracks.
"With Kelli when a client priority comes up, she can help me reprioritize everything; if I had to do that myself things would fall through the cracks – big things and with Kelli that doesn't happen."
For Nancy this type if integration into business strategy and directive scheduling that Tom outlined isn't an exception it is the rule.
"We did a study which looked at what type of activities business support professionals are doing today and while many are doing traditional secretarial tasks, 41 per cent of respondents said they are making managerial or recruitment decisions," explained Cote, speaking to a study performed by Ipsos Reid commissioned by Randstad called The Changing Face of Today's Business Support Professionals. "To me this means they are an integral part of management. They are bringing people into the company, this they have a say in how organizations develop. "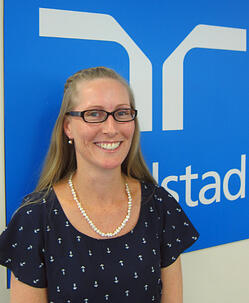 Meet Kelli Cutler
For someone who has been in the position the role is even more nuanced. Kelli has worked within Randstad twice, supporting two company executives for more than six years.
"It is fun, you get to be a business driver, you get access to the entire company. I'm at the centre of everything I know how the business works and even though it can be stressful waiting for people to track back with things or having to follow up with so many parts of the business it is a great job," said Cutler.
Reason 3
With years of experience and specialized training admins know the systems and processes to help organizations get things done.
Kelli has worked all over the world, having grown up in Australia and completing a traineeship in Clerical and Administrative Skills in Australia in the 1990s. "It was sort of like an apprenticeship; you'd work for two days a week and attend school for two days a week and it took a year to complete."
In the 20-years that Kelli has held business support roles she's worked in diverse industries ranging from engineering to insurance and now in the human resource management and recruitment field. She's worked all over the world from Banff, British Columbia, London England, Sydney, Australia and now in Toronto, Ontario.
"All of the skills I learned and have developed are transferable it has given me the flexibility to build an exciting career," said Cutler.
That flexibility and adaptability are two of the most important traits for an executive assistant today, Kelli also admitted that she's a bit of a control freak, "It helps me keep everyone in line."
The variety of work environments and difference in technologies has meant Kelli has had to constantly keep learning and growing her skill sets.
"It isn't just that you're going to change over from one word processor to another but every company – every leader, has different ways of doing things," Kelli explained.
Another benefit of her role, Kelli said that the variety of work she does keeps her interested. She'll organize large company events, direct campaigns and at times lead corporate social responsibility activities.
"People trust me. I'm given parts of projects or whole ones they know that it will get done. I'm a business driver, and I'm a silent one – I help everyone communicating to the executive looking good and I keep the executive following up on time, it is a two way street."
The role may change but it will never disappear
In closing her speech Nancy was optimistic about the industry and roles she's recruited for most of her professional life.
"The role has come a long way from dictation to direction and I hope today's business support professionals know how valuable they are and how exciting the next few years will be," Cote said. "Admins aren't making coffee anymore and business support professionals are only going to be more important in the years to come.
Help Randstad Canada celebrate Administrative Assistance Week and share this story with the hashtag #Happyadminday.