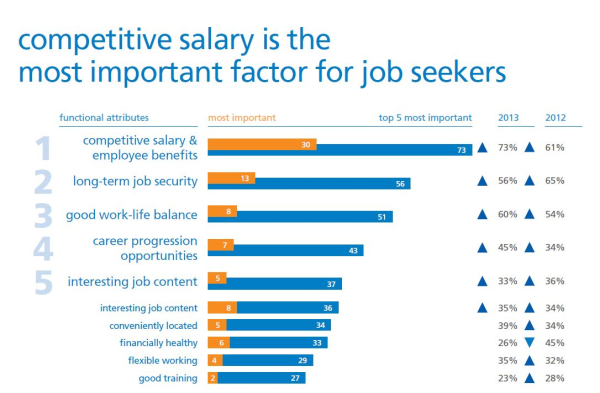 Canada is an exciting country to work in, with many of the world's leading employers and strong growth in industries like oil and gas, technologies and finance opportunities to grow your career and your skills are endless.
Companies are developing their employer brand to help attract candidates to join their organizations; much like businesses have established their own marketing brands to attract new customers. Knowing what a company's employer brand is and how you could fit into it is every more important on your job hunt.
In a recent survey in support of the Randstad Award, 8,500 Canadians were asked their perceptions on a number of topics about their work lives and their perceptions; we wanted to share 3 Facts that every job hunter and employer should know.
1. Canada's most desirable industry to work in
The Transport and Logistics sector 45% is the most desirable, with both men and women. The sector also earned favorable results on training, a pleasant work atmosphere and interesting job content. Transport and Logistics was followed by:
High Tech Manufacturing 42%
Motor Vehicle & Parts 39%
Energy 41%
2. Best way to attract job hunters
This year, Canadians hold competitive salary and benefits as the most important factor in deciding whether a job opportunity is attractive enough with 73% of respondents leaving the factor in their top 5 followed by;
Long-term job security 56%
Pleasant working atmosphere 51%
Good work-life balance 43%
3. What endangers good work life balance
When Canadians were asked what factors would put their work life balance at risk, Canadians responded strongly with 57% of respondents answering that an unfavourable working environment is the greatest risk to a good work life balance, followed by;
Poor cooperation with colleagues 51%
Work during evenings/weekends 47%
Putting in too many extra hours 45%