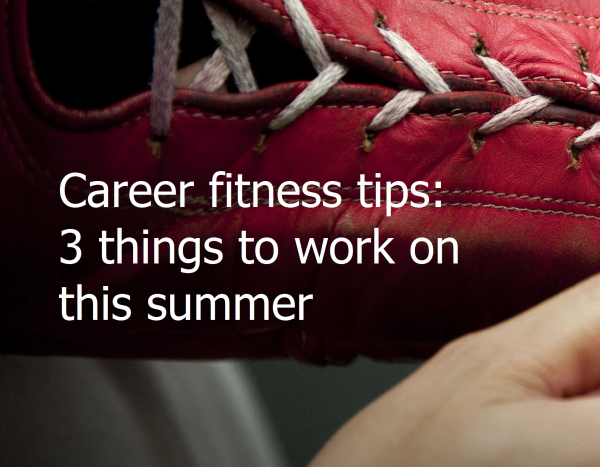 Career fitness tips: 3 things to work on this summer
Last night I attended my first boxing class and as fatigued as I was by it I'm energized by what I accomplished. The same can be said about the past year. Accomplishments are the icing on the cake but it is the journey that nourishes you whole.
Career building and navigating your way through it, is more about overcoming your failures than it is celebrating your successes. The good times are good because your worked hard, planned well and stuck to it.
As good as you are today you can always get better. Here are three things you can do to help push your career further this summer.
1. Learn about something new
Even if you have 10-years of experience in human resources with all the designatations imaginable - there are opportunities available to expand your awareness of your business and industry. Look for new training opportunities, learn a new language or find something completely new to dig into.
We launched registration for a webinar on the lifecycle of a coding languages and how to recruit developers called Why JAVA Will Never Die, this could be a great opportunity for you to learn something new.
2.
Network more
New people bring new ideas. Spreading your influence between different departments and different community groups can expand your horizons and bring new opportunities for yourself and your organization. Every city has some nooks and crannies culturally that you've never seen and there are parts of your organization that you haven't ventured to. Take a day this summer and do one of the two. Developing knowledge of a new demographic or age group - or learning about a new system from an different type of organization can bring great insights into your day to day.
When I was a reporter learning how the advertising sales teams managed their contacts taught me a lot about follow-up and relationship building. Similar synergies can be found where you work.
3. Become a mentor
Mentorship is growing in popularity as new generations of workers are working their way through the ranks. If your organization doesn't have a mentorship program – think about starting one. In a poll of 500 female executives and managers, 58% felt that organizations across Canada could provide better mentorship or advocate programs.
This exercise will benefit your team, your organization and yourself. One of the best things you can do to cement your skills and processes in your own mind is to help develop someone else's.
Personal development is professional development and if you forget former the later will suffer.