Calgary gains 1/3 of the population of PEI every year
Remember when you were a child and every six months your parents had to buy you new shoes? Your feet would grow to fast, your jeans were always too short - that's what has been happening to Calgary but for the past 100-years - Calgary has been having another growth spurt and it is shooting to play as a gaurd in the NBA.
Year on year, Calgary's growth rate in population is around 4.3%, the City of Calgary is adding about 45,000 residents every year. In context that's a large community in the City of Toronto, or a third of the population of the entire province of Prince Edward Island.
To get a hold of what that growth means in employment I've built out two graphs made from Statsitics Canada Data.
The first is employment growth by industry, by per cent of the size of the industry. It doesn't come to much a surprise that between 2009 and 2013, Calgary's oil and gas and resources extraction industry saw enormous gains with an increase of over 30%. That's impressive over a decade and mind blowing in four years. Over this period of time Calgary's working population grew by almost 10%. That's like adding a city the size of Kawartha Lakes, Ontario, and sending them all to work – I mean everyone, children and all.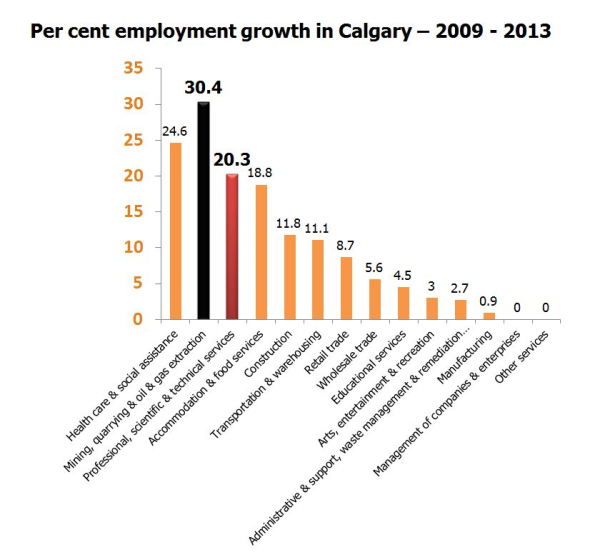 The second gives you the full picture; it shows you what that growth actually represents in people. While the growth in the oil and gas industry is impressive, the 20% growth in the professional, scientific & technical services sector has been the leading driver of Calgary's employment growth. These jobs support the oil and gas industry and are seeing a real boom todate. Last week we shared a piece on some of the other support jobs in the oil and gas industry in Calgary's hottest jobs: part 1. Below this graph is part 2.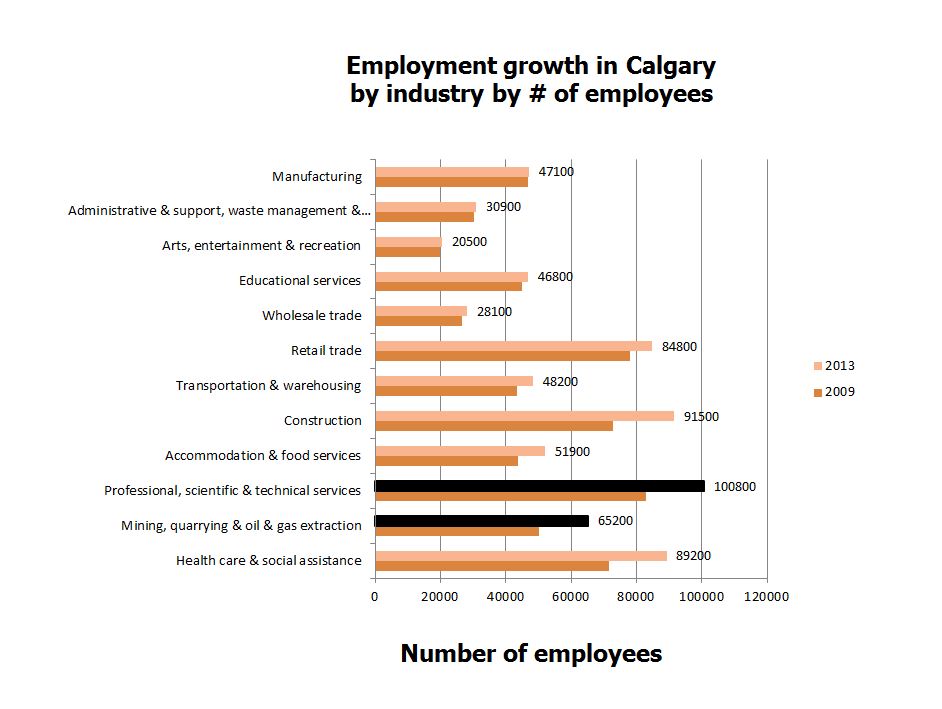 3 Roles that are booming in 2014
Business Analysts
Business analysts straddle the worlds of digital and business – connecting data to decisions that can have close-to-immediate impacts in all types of industries. Between 2009 and 2013, Calgary saw a growth in the number of companies in the information and cultural industries of 12.7%, as well; the scientific, professional and technical sectors grew by 17.8%.
With more businesses hiring more people the demand for these roles will continue to be strong in the coming years.
Project Managers
Project managers are helping coordinate the construction of the skyscrapers being erected in the city of Calgary, or working within the oil and gas sector planning new extraction projects.
Projects managers are consistently in high demand in Calgary; Randstad Canada's internal numbers have shown consistent growth in these roles since 2009 with growth in demand for these roles by about 20% by year – so far in 2014, that growth has accelerated faster than in previous years, with growth being closer to 40% indicating more projects are being started; more shovels are in the ground.
Financial Analysts
Support this growth are financial analysts, helping companies position themselves and assessing the financial value of their activities. Calgary is seen as an attractive place to invest and is considered the third Canadian financial centre, after Toronto and Montreal – and the mainstay representative of the oil and gas industry in the country.
Because of the size of the market, jobs for these roles are projected to grow in the future. The City of Calgary's own projections foresee growth in the finance industry by 13% between 2014-2018, so while in the previous four years total growth in this profession was slow, it will be making a greater impact in the coming years.