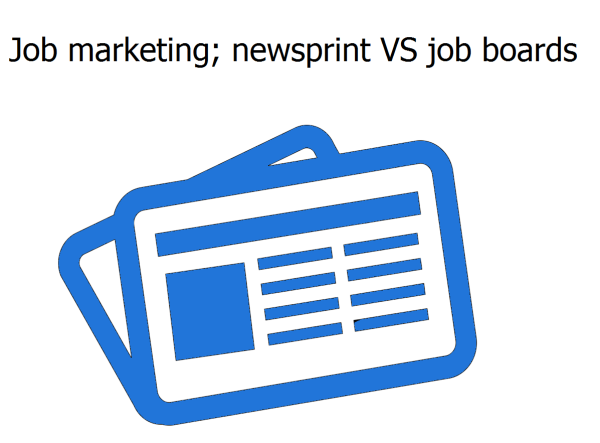 As an employer, where you spend your money on recruitment can be a minefield; there are so many questions to ask.
If I buy space in a newspaper how do I know who will see my ad?
What job board should I post my job on?
Should I trust people who find my job posting on Craigslist or Kijiji?
How do I properly vet a resume and do a background check?
The truth of the matter is every technique can work and every technique can fall flat on its face.
In the end your personal network is first and foremost your most valuable tool in recruiting. The people you know will likely know the people who you want to hire. Job ads are in effect, a tool for you to market your company.
They need to reflect as much your organization's or department's brand as it does the message of who you want to recruit.
1. Think about what audience you want to target
If you have a large network, both digitally and interpersonally that's a great first start for your new-hire search because you know your network and its benefits. Beyond that, demographics are your first hint at what audience you'll reach.
Newspapers traditionally have an older audience; they may also help you reach the parents of people you are seeking to hire.
Craigslist and Kijiji are free digital classifieds that have an audience that represents a lower skill set than other paid job boards like Workopolis.
2. Your money and time matter
Taking calls, answering emails, fielding questions from job hunters and review resumes can be an enormous use of your time. If you put job ads in a newspaper you are going to be receiving resumes by email and taking calls. When you post on a job board digitally you might get resumes from everywhere that you'll have to sift through.
Think about what amount of time and effort you are willing to put into finding someone and what format you'd like to receive applications in.
3. Quality over quantity
One great candidate is leagues and bounds more valuable than 100 OK candidates. Keep track of where you've had success before – what job board or agency that has helped you in the past, or the person who was able to refer you to the best people. Remember that when you place your job ads, you don't need to be everywhere, you just need to be where your talent is hiding.
Need help?
If you need help in your talent search, we know all of the ins and outs of job marketing. Whether it is job boards, or newsprint, open houses or direct recruitment we can help you find the people you need today. Contact Randstad Canada by registering your vacancy here.