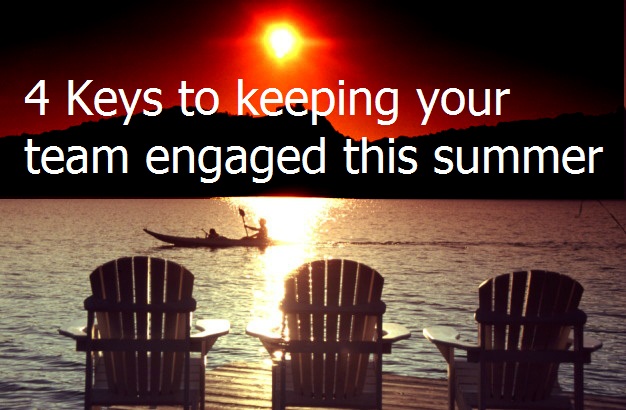 With statutory holidays, summer festivals and children being home from school attention at work can fade. Mix that with a loss in productivity due to that heat your short staffed, overwarm teams' efficacy can grind to a halt.
Can you beat summer vacation attention disorder?
Planning around the summer goes beyond keeping that AC on high, you need to think about what excites your teams and motivates them to work during the best days of the year or during oppressive heat while parts of your city are in full-blown celebration mode.
1. Set realistic short term goals
Nothing flags peoples' attention like an overly complicated project that requires the integration of multiple departments within a company and external vendors and lots of buy in.
In the summer, more people are on vacation, they are spending more time with their families. Before some holiday weekends even getting someone to answer their phone can be challenge. There are some projects you can't accomplish during this time – but there are elements of larger pieces that can be completed.
Break these tasks down into my manageable chunks that you know a project team can complete with few limitations. When attention wanes, smaller tasks can be completed more easily; this may require more project management on your part but it can go a long way in helping your teams keep at it.
2. Be flexible with hours of work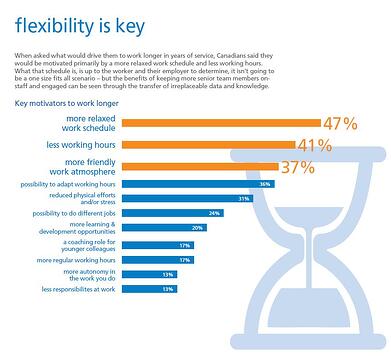 With greater familial obligations and sweltering commutes home, giving your teams that opportunity to leave work an hour early, or come to any other work hour's adjustment, can be a life saver.
This sort of flexibility has been seen by Randstad Canada's employer branding research as a key metric for ensuring older workers' stay engaged and can even keep them working with a company longer.
3. Leading by example - relaxation
This doesn't mean you need to wear a Hawaiian shirt three days of the week but showing your teams that it is okay to work from home one afternoon, leave early to be with your family or yes, something as small as not wearing your three piece suit can help your team feel the summer without clocking out. This includes when you answer emails – try not bombarding your colleagues at night or on the weekends.
The summer is a time for regeneration and if your office can be a place where that process can continue to occur, your teams will feel less antsy when the sun is shining.
4. Help plan peoples' vacation
More Canadians are going without their paid vacation than ever before. That's because they have too much work, they feel as though if they leave the office their world will fall apart. This is terrible! We're going on vacation less than anywhere in the developed world.
While vacations pull elements of your team away they are integral to productivity. Plan around peoples' plans, discuss what needs to be done to make those vital vacations work for everyone.
This will also help you plan your projects - knowing who is away and when is a big help.
Do you need some help this summer to fill long vacations? Message us on Twitter @RandstadCanada or tell us who you need here!