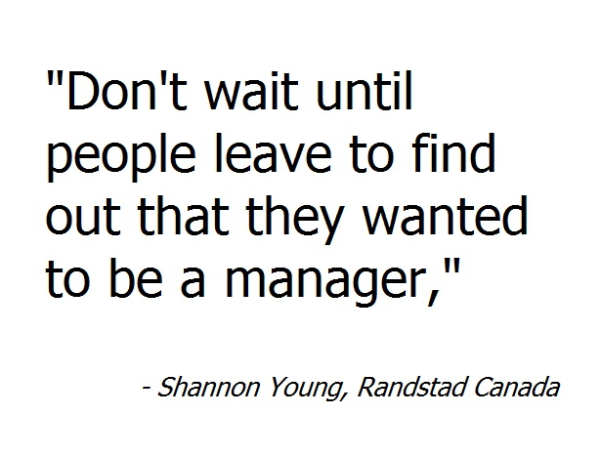 A couple of weeks ago we published data from our recent Workmonitor Survey, which looked at employee loyalty and what employees would leave their current positions for.
What we found was that Canadians, while content in their current jobs, would overwhelmingly leave their jobs for more money or for better opportunities for advancement.
In an interview with the Canadian Press, Randstad Canada's Manager of Human Resources, Shannon Young said something prescient that every manager should read.
"Don't wait until people leave to find out that they wanted to be a manager," she said.
"Have conversations early and often with your people, especially key people, to .... figure out what they want and then make sure they know that you're committed to help them get there."
You don't know if you don't ask. You can't expect every employee to be forward about what they want and just because someone doesn't ask doesn't mean they aren't perfect for the job or for the training opportunity.
Testing, training, discussions and development plans will build your teams up, increase their engagement and lessen the likelihood that they'll leave you for a competitor.
Employer loyalty is not dead, it is sleeping
Retention is just as important as recruitment and most of the time discussions are free.
In our Randstad Award research we found that while compensation and benefits are there primary attractor for the majority of Canadians surveyed, work life balance and training opportunities were an important part of employer attractiveness and thereby retention.
With employee engagement, the question in many cases isn't whether your teams are engaged at work, but whether the company is engaging the employees.
We're told so often that our work should be about more than a paycheck – but there needs to a reciprocity to make the statement true.
Training, personal development and advancement opportunities is that reciprocity.
You can learn more about employee engagement by follow us on Twitter @RandstadCanada
If you are looking for help finding great people, or need advice on how to retain them contact Randstad Canada today.