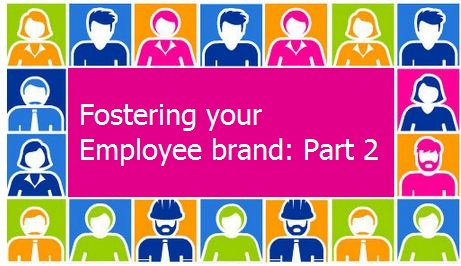 Here are three more keys to building a positive, engaged personal brand. Read the first two and the introduction to this piece, in Fostering your "employee brand": Part 1.

3. Get the message out
The single most important way of developing your brand is to be seen in person (in a positive light of course). If you are a jobseeker, networking is an important way to sell yourself, but for those currently employed, internal networking is just as important. Make going out and meeting the rest of the business an objective in itself.
Your network of friends, colleagues, clients, and customers are the most important marketing vehicle you've got; try to continually find ways to nurture your network of colleagues. What they say about you and your contributions is what the market will ultimately gauge as the value of your brand.
Additionally, you can set yourself apart by regularly contributing and providing added value on sites such as LinkedIn, writing blogs, using Twitter. Your aim is to be known in a positive light as an expert on a particular topic. It's not about being online 24/7 for the sake of it; it's about adding value to others through all of your communications.
Have you built your personal brand? Do you have your career path mapped out? Answer these questions and more, in our career path survey and be entered to win 1 of 11 cash prizes. Enter our survey here now.
4. Radiate power and leadership
One of the things that attracts us to certain brands is the power they project. It's no different in the workplace. If, for example, your colleagues are having a hard time organizing productive meetings, volunteer to write the agenda for the next meeting. You'll not only be contributing to the team, but you'll have the opportunity to determine what will go on and off the agenda. Most importantly, remember that power is largely a matter of perception. If you want people to see you as a powerful brand, you must act like a credible leader.
5. Be consistent
Brand building doesn't happen overnight and it needs to be consistent. When you're promoting your brand, remember that everything you do - and everything you choose not to do - communicates the value and character of your brand. Everything from the way you handle phone conversations and emails to the way you conduct business in a meeting. It's all part of a larger message that you are sending about your brand.
Ultimately, you are in charge of your brand and there is no single path to success. And while there is no one right way to create and promote your individual brand, these tips will set you on the right path to becoming more attractive to leading employers who are eager to find and retain not just great candidates, but also inspirational employees, that they will be clamouring to work with.