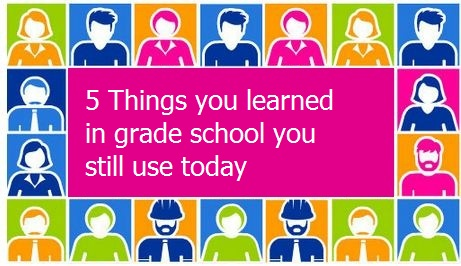 Whether it was your years of arriving by school bus to the playground and with the ringing of a bell at 8:30 a.m. or your hard work on arts and crafts (with an autonomy unforeseen in high school) your years in elementary school were well served.
It taught you the finer points of dress, the value of a good packed lunch and these five imporant things that you use to this day:
Getting up in the morning
Getting up in the morning is a big deal, sometimes it makes all of the difference in your career.
The job you do today is, and the one you look for on your job search is what you've trained for but if you can't get up and ready in the morning all is for not. Think about what you learned by getting up out of bed, taking off your Star Wars PJs and going off to elementary school.
You learned how to wake up! You got out of the house without a $5 a day coffee habit, in some cases you even packed your own lunch.
Daily commute
For those who are fortunate enough, elementary school involves a five to fifteen minute walk to school, typically on side streets with friends, discussing Pokemon or Poggs at some length. Your commute can be long and hard and that grind gets to you - the daily commute teaches the value of proximity.
This is repeated on the way home.
For others, we waited for a bus. It was crowded, bumpy, sometimes it smelled bad, but you get where you are going and if you are lucky you've got a friend with you.
In cities not just in Canada, but across the industrialized world, the transit experience is not unlike a grade five school bus and you learned how to do it as a child.
Are you looking for help on your career path?
Presentation skills
In elementary school we get our first hands at presentations. I'm still sore about my grade five presentation on the Civil Rights movement of the 1960s getting short shrift to a contemporary's piece on Highland Dancing. Sure, my 42 minute presentation included liberal portions of MLK's I Have A Dream, and no I didn't dance during my presentation but I think I deserved an A+, I had speaking notes!
I lost marks for going over time you see. This is a skill we all need to develop. It takes time and practice to prepare for speaking to a group, even when you think you know the topic remembering to take your time to really practice and prepare is important.
Group work. Fun!
Later in grade six or seven, you are introduced to group work – which will in later years becomes your job and career.
You are given a project, with some limited direction and as a team you are to construct a presentation on a world event. You learn how to delegate tasks, how to follow up with your co-workers and in some cases drag them through the finish line to ensure you get a good grade.
These little negotiations that are made on these projects prepare you for the team work we do everyday in the professional world.
Personal direction
Of course it doesn't end there, you then get asked, "Why do you want to be when you grow up?" a lot of people are still asking that.
If you aren't completely sure, or you want a little help later in the game finding your career path, take our personal branding survey and enter to win a $300 VISA gift card. The survey will teach you a lot about how to market yourself and who to reach out to for career guidance.