6 Office Holiday Productivity Hacks to Get You Ahead of the Game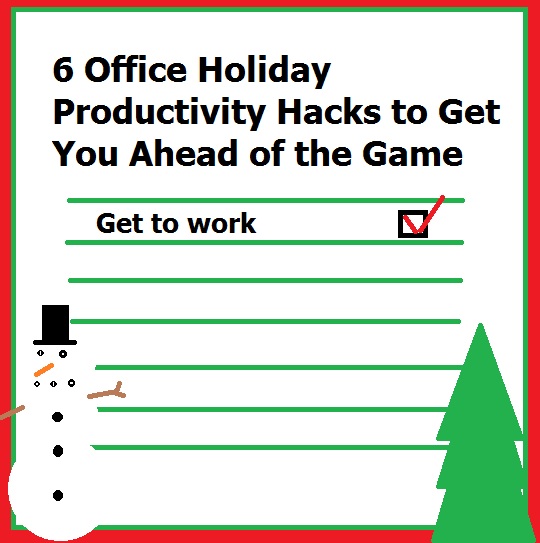 Between holiday parties, vacation notices and children coming onto their winter breaks, boost your office and employee productivity can be at an all-time low. But not for you! No, not this year! This holiday season you are going to break down barriers to your success, you are going to surmount the climbs of office heroism and get things done!
1.Make a plan: Santa Claus isn't the only one who's making a list and checking it twice, that's going to be you! Follow old Saint Nick's advice and plan out what you can achieve in the next two weeks as your deserted office gathers dust. Think about what you can do on each day you are at the office, make daily and a weekly to-do list and challenge yourself to cross all of them off. Compare that to next year's plan and see how far into Q1 you can get a head start.
2.Exercise: There are advantages of being the standard bearer of your department – if you want to take an extra-long lunch and hit the gym you can. You manage your time to be as productive as possible; exercise can increase your energy, keep you focused and make you feel better. This is especially important if turkey dinners and Egg Nog are in your future. Breaking your day up with physical activity isn't luxurious, it is a catalyst to a more effective work day.
3.Clean out your inbox: In-box zero is a fine goal to have, but isn't achievable most of the time. Start of the New Year right by sorting out your communications by topic, or industrial theme, further to that organize your files and get your materials in order so you work smarter not just harder.
Looking for a new job this holiday season? Search for great positions in your region, click the button below.
4.Analyse your post mortems: We all have decks full of great advice we're trying to give ourselves and our teams. Look back at this year's projects and compile a list of best practices of all the things you've learned this year – find out what didn't work on a macro scale and reenergize yourself with a reminder of your accomplishments.
5.Catch up with a mentor: This time of year is supposed to be about connecting with old friends and family. This can also be a great time to ask your mentor out for a coffee – bring along a notepad and a gift and pick their brain about issues you are having on a project or talk about your career progression.
6.Break your coffee habit: Unless you have direly important meetings, or have been staying up late baking cookies, you shouldn't always need a cup of Joe in the morning. Caffeine is a powerful stimulant but it loses its potency when it becomes a three times daily habit. With the office empty or close to it, this is the perfect time to take three days and abstain from the dark glory of your Starbucks cup.
Happy holidays, and I hope you these tips help you be as productive and joyful as possible.
Share your holiday work tips with us on Twitter @RandstadCanada.