In 2014, we learned on the Randstad blog what you want to share, what you want to read and how we can help you advance your career. Our four most popular themes were pieces on; Jobs & the Economy – covering things like labour news and trends in employment; Leadership & Ethics which featured our Women Shaping Business programming and more personal pieces about professional advancement and propelling your personal brand; Skills & People, covering how you can manage your career; and Culture & Brand how companies can attract candidates to their companies, retain them when they get there and build engaging cultures as discussed through our Randstad Award and employer branding campaigns.
Our most shared and read articles are found here, take a moment to explore them and the year that's passed. We at the Randstad Blog hope you had a wonderful year where you have made progress in your professional lives and engaged in your community – Happy Holidays and we wish you a successful 2015.
Randstad Blog's Top 10 Articles of 2014
One: Canada's Most Wanted Professionals: Top Jobs 2014
Take a look at what Randstad Canada saw as the most in-demand roles in 2015 across the country and across all industries.
Two: How I overcame the impostor syndrome
Hear from Randstad Canada's Communications Manager, Marie-Noelle Morency about how she's overcome imposter syndrome and how you can too.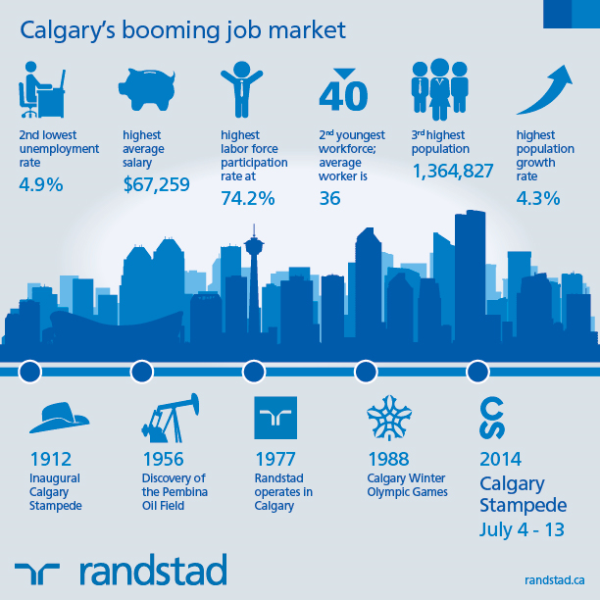 Three: 6 Reasons Calgary's Job Market Is Booming
Calgary, Alberta was an important part of the Canadian economy in 2014, with some economists attributing up to 80% of Canada's new job growth coming from Canada's western oil magnate of a province. This year Cow-Town will be just as interesting – catch up with what made Calgary's job market so hot.
Four: 5 Steps to leave your job on great terms
We all make transitions and when we do it is important to our reputations and the function of our teams that we do so with class, courtesy and care. Find out what steps you can take to move on smoothly in the New Year.
Five: Let's talk about dress
The way we carry ourselves speaks to those we haven't met and helps us define our personal brand – hear from Randstad Canada's Senior Vice-President of Human Resources, Faith Tull as she speaks on the importance of personal image and confidence in the workplace.
Listen to our podcast on this topic here.
Six: 4 Reasons JAVA Will Never Die
Tech companies in Canada face challenges recruiting the best and the brightest – some are using the very programming languages they work in as tools in that fight. Find out Why JAVA Will Never die. We hosted a webinar, that spoke about what programming languages are effective recruitment tools.
Seven: 5 Things resumes shouldn't include: identity theft
Your resume is important to your personal brand, but it can be a prize to criminals looking to steal your identity. With security as porous as it has ever been, find out what you should and shouldn't include on your resume to protect your online and financial identity.
Eight: 5 Reasons Canada's Workers Are the Best
Canadians are better educated, we work harder and gosh-darn we're pretty nice too. These are among the five reasons we're the best workers in the world – find out the others here.
Nine: 10 Employment Survival Tips You Don't Learn In School
School prepares you for a lot, but the work world is another beast to its own. Find out how to survive your first year in the office when you get out of school and learn from our experiences.
It takes more these days than a wanted ad and a salary to recruit the best. Learn how to attract candidates using your brand in this piece on Employer Branding from the 2014, Randstad Award program.

Randstad Award 2014: Learn more about our industry leading research on employer branding and the art of candidate attraction – visit, www.randstadward.ca

Women Shaping Business 2014: This year Randstad Canada delved deeply into the value of mentorship and how organizations can better engage employees in cycles of advancement and training. Learn from experts ranging from leaders in IT, academia, engineering and human resources.

Happy Holiday and we look forward to hearing from you in 2015.

Sincerely,

Randstad Canada Blog Team
Looking for work in the New Year?