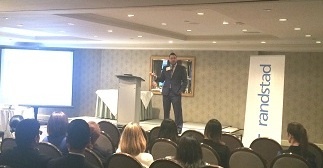 On September 24, we held the 2015 edition of our Talent Award gala, highlighting the talent of amazing individuals who are dedicated to the success of their organization. This special evening allowed us to recognize exceptional professionals in the following categories: Innovation, Life Saver, Rookie of the year and finally, this year, Personal branding. Our Randstad Professional consultants have submitted over 100 nominations, and out of these, a special jury selected the Top winners in Montreal and Toronto.
This year, we are focusing on a skill that we find to be very important in today's competitive marketplace: personal branding. We understand that in 2015, a resume is not enough to stay ahead. Regardless of age, regardless of position, regardless of the business we happen to be in, all of us need to show a professional, positive image in the workplace, especially now, in our social media era, where everything is seen and known.
At Randstad, we know that every organization needs talent to move forward. That is why we created the Talent Award.
We want to congratulate all winners. They perfectly exemplify how organizations need talented people to move forward. We also want to congratulate all the nominees who also contribute to the growth of Canadian organizations.
Here's the list of 2015 winners for the different categories.
Finance & accounting
Innovation Jack Novak
Rookie of the Year Ali Irtaza
Life saver Rosario Saracia
Human resources
Innovation Evert Akkerman
Rookie of the Year Elisa Abarca
Life saver Jack Triolo
Sales & Marketing
Innovation Carrie Higgins
Rookie of the Year Gurshawn Hansi
All divisions
Personal branding Geeta Jadhav
Congratulations!