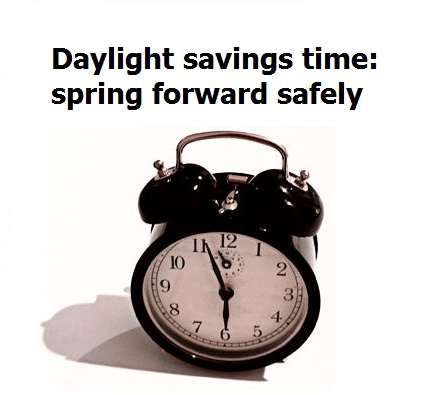 This weekend on Sunday March 8, we'll be turning our clocks forward an hour and while the boost of evening light will be make our commute home more enjoyable you have to make sure you "Spring Forward" in a safe and productive way.
In a study, published in the Journal of Applied Psychology, researchers from Michigan State University looked at reports of accidents that have occurred in mines from 1983-2006. The Barnes and Wagner study has found that when we lose an hour of sleep, like we will this upcoming Monday, we are more likely to be injured at work, and more likely to be hurt more severely. So, yes, daylight savings time gives us more-light but we need to be careful while at work.
How to save yourself during daylight's saving time:
Go to bed an hour early, on Friday and Saturday night: This will help your body become accustomed to the time change and prevent life threatening fatigue.

Change your clocks earlier: If your schedule and sanity can withstand it, start your time change early. Your cellphone will change itself, but your habits of waking up an hour early won't.

Take a care day: Some people experience sleep fatigue differently. If you don't feel that you are well enough rested to perform your job safely, take the day off. Your safety and the safety of the people around you is more important than being on time.

Be aware: Your morning commute will be darker than usual. Are your headlights clean, are you prepared to interact with cyclists and pedestrians differently? With early March comes early spring, and the melting conditions will bring more people onto the road – watch out for them!
Workplace safety is part of the productivity puzzle. Managers should be cognizant that changes in time can affect people's performance. If you work in an environment with FlexTime, or work from home, don't be surprised if some of your team members use that option on Monday, March 9.
For more workplace trends, or talent management advice, follow us on Twitter @RandstadCanada.