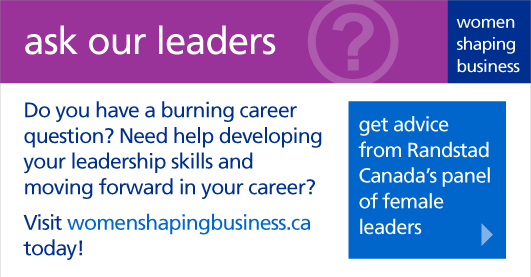 Through our Women Shaping Business program, we want to provide you with valuable insights that you can use to assess the leadership of women in your organization, evaluate your own professional career growth plan, and inspire you to reach out, connect and keep the conversation going.
With this in mind, Randstad Canada's Leadership team invites you to submit a burning question you have on career development, mentorship, leadership skills, or any other topic around women in business. Submit your question using the form here and a member of our Ask Our Leaders panel will provide insightful advice to help you manage your career.
This week's featured Randstad Leader is Laurie Compartino, Regional Vice President, Randstad Canada
How can I play more of a strategic a role rather than focusing on the execution of tactics? Even if I learn to let go, when work does not get done I get dragged into actually executing the vision.

This is a very good question and, in my opinion, it's all a matter of balance! When climbing the corporate ladder, we often think we should spend most of our time on strategic planning. I think it is important to keep in mind that excellence in execution is just as important.

Every year, I dedicate specific time to define the key pillars of my strategic plan. In order to build an achievable strategic plan that translates into clear goals, I take a couple of days (sometimes weeks) to define what my goals are. Once that is complete, it is important to step back and look at the overall picture (I do this on a monthly and/or quarterly basis). It allows me to identify gaps and positive trends and to correct my course of actions, if necessary. It also helps to find the real problem behind execution issues.

Although I believe strategic planning and vision are important, I don't feel we should spend most of our time on it. A great strategic plan will not create great results if not well executed!