Generations Part 2: Gen Z, the world's your oyster
James Rubec, Content Marketing Specialist at Randstad Canada, shares his thoughts on the generational huddle he's grown his career within and his hopes for the new generation entering the workforce today.
Want to read part one? Click here.
If everything I've read about this generation is true they'll fit right in – but companies better invest in them and allow them to take their time to figure out what the organization actually does and how it works.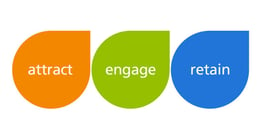 Bringing in Gen Z for data entry, or to sort files that shouldn't be printed anyway is a waste of their energy. What this generation has experienced is 15-years of rapid evolution of technology and social norms. They expect everything to move that fast and they might be right.
I started my career when using a cell phone in the office might get you a funny look, now I'll be in meetings where we'll all periodically pull them out to look at new messages; faux pas or status quo, who knows.
This generation will be more connected and will face more of the challenges that will come with it. There are so many channels for communication, which ever combination this generation chooses to use will win out.
From Generation Z? Here are tips on building your first professional resume.
They will be masters of their domain and if they have coding skills, building tools to make business easier will be second nature. No longer with there be a six month development project and a team of four – they'll just work on it in an afternoon and Shazam you'll have a new business application. Sure that might not be "focus" but it is more productive.
More than anything they want to learn and be certified – they know that knowing something is good, but showing that they know something immediately has more value. Of course not everyone can build applications in an afternoon but it could come to a point where building a solution to a problem replaces the Powerpoint presentation. This generation will expect society to come to the table with solutions or to not come to the table at all.
Disruption is the new productivity and Generation Z has grown up in a constant cycle of it.
Learn more about Generation Y, with From Y to Z: a guide to the next generation of employees.