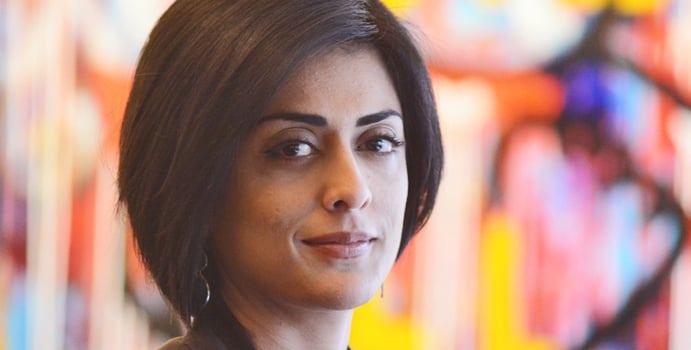 Saadia Muzaffar is a tech entrepreneur passionate about connecting ideas, bridging people, and changing the ratio. She happily paid her dues in finance before crossing over to the not-for-profit sector to help support Canadian startups in the technology and innovation space. Saadia is part of the Global Team for Kauffman Foundation's Startup Weekend, leads a Lean In Power Circle, and is part of ADC Canada's Let's Make the Industry 50/50 Initiative. Currently,Saadia is working with AudienceView. Connect with her on Twitter at @ThisTechGirl where she advocates for women's leadership in the Canadian economy.
What are the benefits of mentorship?
So the great thing about mentorship is that in its essence it's a very simple concept. It's being able to look back and see where you had difficulty in your career and making sure that you can do something today to help people make their journeys are a little bit easier and their results a little bit better. Leadership is also so much of that, thinking of your contributions as more than just your career or your personhood and bringing more to the table than just a one dimensional advancement agenda. So it's equal parts guiding and learning and both mentorship and leadership have that in common, which is why a lot of good mentors make really good leaders.
How do you choose a good mentor?
I think it's important to remember that mentorship is a two way street. Even though your mentor might have seniority in terms of experience, anybody should go into that kind of relationship building thinking they can also provide value and give back. So picking a good mentor isn't just scouting people who you think benefit you, you should also look at how you can lend some perspective, some time, and give back to them. And I think that's what makes a really good mentor and mentee relationship.
What can organizations do to empower women?
I think organizations can make a huge difference in creating spaces where women can not only have access to great opportunities but be able to excel. The first thing that they can do is pay them equally and equitably. The second thing that they need to do is create a culture of transparency. And the third very important thing is to continuously work on this maddening and conscious bias. We all have it and we can be better at it.
What impact do women have on the economy and the growth of organizations? What do they bring to the table?
I like to think of what women bring to the table as what diversity would bring to the table. Any set up where there is a homogenous set of people who are making decisions, there tends to be groupthink. So women, just like other types of diverse representations of people, bring in resilience and empathy and collaboration. These are things that we have had to use a lot of because of how a lot of society has been structured, but these can also become our strengths. So I am not fond of saying that there's a special sauce that women bring, but I do think that there are skill sets that we bring to the table that are usually not present. Just by virtue of the experiences that we've had.
Want more insights on becoming a great leader or download a copy of our Women Shaping Business Study 2015? Go to http://www.womenshapingbusiness.ca
Join the Women Shaping Business Linkedin Group, and keep the conversation going all year around!
Follow us on Twitter @RandstadCanada with hashtags #womenshapingbiz and #mywfactor