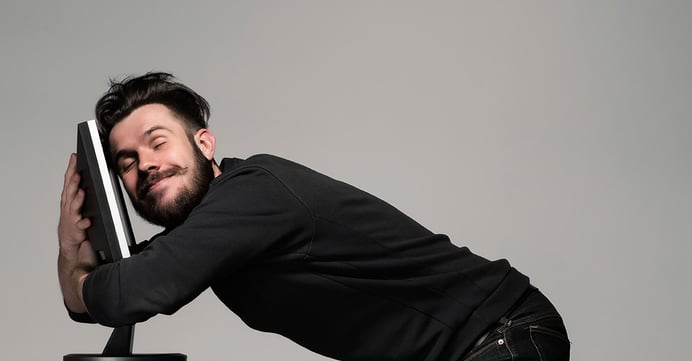 We talk a lot about employee engagement and what employers can do to ensure optimal production through optimal engagement. That repetition, by the way, is not accidental. The only thing wrong with that approach is it assumes employee engagement is a one-way street, when, really, it's a two-way, fully integrated highway linking employer and employee, with on ramps for happy customers and special rest stations for investors. That's how it should work, anyway.
What we're suggesting here is that the onus for engagement is as much on the employee as it is on the employer. It's a symbiotic, give-and-take relationship at its best. It's the same kind of responsibility you have when you go to the theatre. There's only so much the production crew and cast can do to ensure you have an optimal experience. The rest is up to you. If you're chatting to your neighbor, checking email or snoring, you're not only interfering with your neighbours' ability to engage with the production, you're impacting your own.
The same holds true for behavior and expectations in the workplace. By owning your engagement, you can enhance your experience and that of your co-workers, impact your company culture, increase production and look like a hero. When people are happy where they work they're less likely to look around. Less frequent turnovers result in more stability, consistency, growth opportunities and more of what we all say we want: a work/life balance.
Maybe this sounds a little too precious, but consider this: Companies that actively engage their best employees attract other top employees who bring new skills, fresh faces and perspectives and elevate the company culture. They're more likely to stick around for the long haul. That's a measureable benefit to everyone in the organization. Who wouldn't want to be part of an organization like that?
Here's what you can do to enhance your own work experience and contribute to that of others:
Market your organization
Your organization's first, best magnet for attracting and keeping great employees is you. You make the organization irresistible to potential employees by how you talk about and market it. We're not suggesting you create a fairy tale, but do think about the things you really like about the company and tell others. If you can't think of anything, your next stop should be a great recruiter.
Ask hard questions
What does engagement mean to you? How far are you willing to go to help make it happen? Do you see a desire for employee engagement reflected in your corporate culture and behavior? Once you've answered these questions, you'll be better positioned to determine a strategy. If your organization isn't into employee engagement, maybe they need someone like to you drive the initiative. Suggest opportunities for employee events, ways of rewarding and recognizing initiative and effort, or opportunities for your company to support community involvement. At best, you'll awaken a sleeping giant. At worst, you'll know you did what you could, add impressive skills to your resume and know what you're looking for in your next job - a company that understands the benefits of an engaged workforce. What you're doing is developing yourself as a leader so that when opportunity knocks, you're right there to open the door.
Make yourself indispensible
You're the boss of you. Drive your own engagement. Offer to cross-train to learn skills and processes inherent in other jobs. You'll pick up new skills and be the person people come to when they need something done. You'll increase your own productivity (can't hurt when it comes to asking for a raise), be more autonomous and help co-workers who in turn will back you up when you need it.
Empower yourself
Most of us hang back and get by because it's the path of least resistance. That's the antitheses of leadership behavior. Instead of trying to stay below the radar:
Set measurable, quantifiable goals over quarterly, yearly and five-year plans.

Coach others.

Hone your skills and learn new ones.
Organizations where employees are empowered shine like beacons to customers and attract would-be customers, in the same way they attract potential employees.
Optimal engagement doesn't mean you're always going to get along with your coworkers, like your job or drink the company Kool-Aid. What it does mean is you're going to have more chance of finding satisfaction in the considerable amount of time you spend working, greater appreciation of the diverse working population that makes up your colleagues and make a more significant contribution to the organization that pays you. Win-win-win. And that's what it's all about.
Becoming irresistible: A new model for employee engagement, Josh Bersin, Deloitte Review Issue 16, Pub. Deloitte University Press, January 26, 2015