Mentorship vs
Sponsorship:
what are they, what are the differences?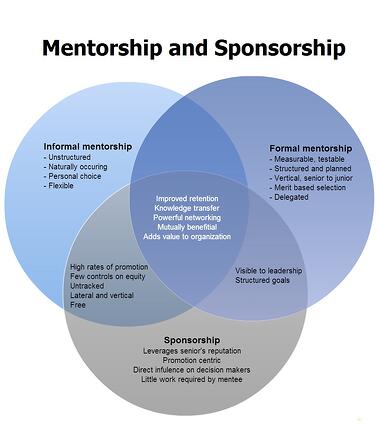 This article is part of Randstad Canada's Women Shaping Business program, aimed at exploring the career challenges and opportunities that current and aspiring female leaders face in today's organizations.
If you haven't had a mentor you're not a alone, in Randstad's 2013, Women Shaping Business report, we found that 84 per cent of women said they've never had one, however for organizations looking to grow, making investments in training through mentorship or sponsorship pays dividends.
Mentorship programs and professional sponsorship especially, are ways to take aspiring leaders and mould them into the businesses' next generation of executives.
How do these two important tools in advancement and training differ?
Mentorship

: guidance up the ladder
A lot people have had mentors, they might not have been called that, but they've had one. They might have been a teacher, they might have been a coach, but most professionals have had a person more senior than them that has taken interest in their advancement and provided advice. This is a mentorship relationship – when one person invests time in another and the other listens and acts on their advice.
Some organizations have formal programs to foster these relationships; these have structure, a defined start and end period and activities that are built into the program to follow. In some cases employees apply to be part of these programs, other times they are delegated the relationships as a duty or responsibility. Mentors go through a similar process but they are often given a choice on who to mentor.
Other mentorships are informal. They can happen as a course of a daily interaction between two team members, or through a manager and employee relationship. What defines them is a senior guiding a junior and the junior advancing through the ranks or gaining new skills.
This is also where sponsorship blends with mentorship, because the best mentors act as sponsors for their mentees.
In an interview with Forbes, Sylvia Ann Hewlett put it nicely,"If mentors help define the dream, sponsors are the dream-enablers. Sponsors deliver: They make you visible to leaders within the company — and to top people outside as well."
Sponsorship: opening the doors
Professional sponsorship is when one person promotes someone to their colleagues or peers for a position. This can be when someone is asked for their suggestions for an internally promoted role and a sponsor brings up their mentee's name. As well this can be done in passing when a manager discusses the high quality of one of their employees' work.
Sponsorship has a stronger relation to professional advancement than mentorship alone. It has been shown to increase the likelihood that female leaders will be promoted to advanced positions and can significantly impact someone's career trajectory. A great sponsor kicks down doors and guides their mentees on the way through them.
Differences and benefits
Both informal and formal programs have benefits. Informal mentorship leads to more sponsorship, but formal mentorship programs are great tools for passing corporate knowledge between different generations of workers.
Another advantage of a formal mentorship program is being able to track the progress of those involved. Informal mentorship might be better at leading to sponsorship but it is hard to measure.
When you look mentorship programs they benefit both the mentee and mentor
A study published in the Journal of Vocational Behavior, which compared senior professionals who had mentors and those that didn't, found mentors had greater job satisfaction.
While these types of programs may add work and take time to foster and maintain retaining quality senior professionals and helping them gain satisfaction from their work is a valuable benefit.
Sponsorships are bridges for great employees to get ahead, for sponsors they are vetting for people they believe in, this can be a risk. The reward is in seeing someone they know can do the work, succeed and bringing a strong ally further up the chain of command.
How has sponsorship helped you in your career? Have you ever had a mentor before? Let us know on Twitter@RandstadCanada.!
You can learn more about Randstad and the Women Shaping Business program on the WSB Linkedin group, register here today.
Here are other articles from our Women Shaping Business series:
2. How I overcame imposter syndrome