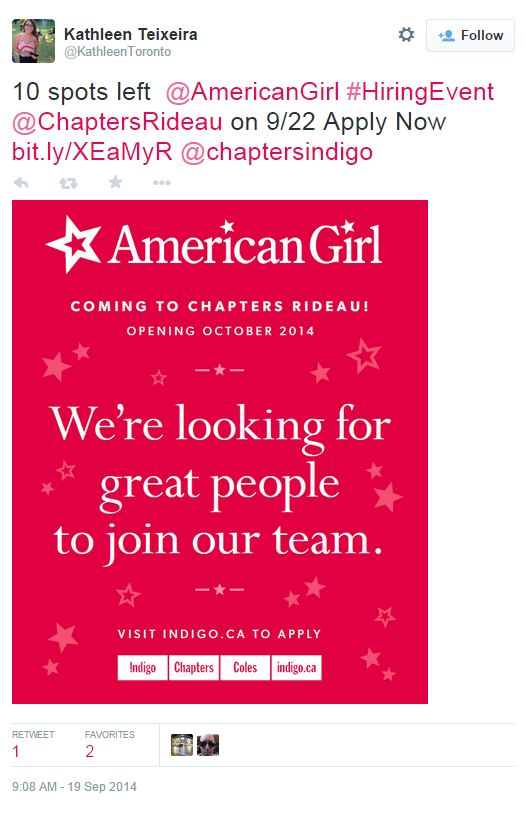 Indigo: an employee experience of storytelling and culture
Walk into any Indigo and speak with the employees on the floor. They are smart, knowledgeable, inter-connected and above all helpful and Canadians have noticed.
For the last four years Indigo has placed within the Top 20 most attractive Canadian employer brands. What that means is that when asked during Randstad Canada's employer branding survey, the Randstad Award, an overwhelming number of Canadians have said they want to work for Indigo. Indigo has achieved this through storytelling.
"We think of Indigo as a cultural department store … and at its heart it is all about storytelling."
Laura Dunne, Indigo's Executive Vice President of Human Resources knows the brand its product line and people. With over 6,500 employees working out of 91 superstores under the brand names Chapters, Indigo and the World's Biggest Bookstore and 130 small format stores, under Coles, Indigo, Indigospirit, SmithBooks, and The Book Company, selling everything from books, ear buds, sheep skin throws and premium children's toys – that's a lot.
That story is found in the products Indigo sells and the people they employ. Whether it is wellness, technology or housewares, Indigo shifts with the culture around it, adapting the product line and team to suit the needs of their customers. To do this Indigo taps its national network of employees and their experiences.
Digital community connecting national teams
"We've built a virtual community called Galileo that allows our employees to engage with each other and our brand, overtime we increased its functionality to include a section called Galileo Ideas," said Dunne, who found that the platform was being used to share best practices on employee experience, financial performance and other innovations "This is the grassroots for change. We have thousands of participants sharing ideas for improvements in store and in every area."
Indigo's brand has been closely tied to creativity and innovation and this platform grew to be an embodiment of that value.
That change and adaption has given Indigo's talent team the opportunity to reimagine the employee experience which allows them to bring exciting partnerships into the brand and the in-store day to day.
"We partner with brands that share our values, we try to preserve their mystic as they grow with us, and we want them to be complimentary," said Dunne.
If you go into any Indigo you experience multiple brands at the same time. You can go to a Starbucks, or into an iStore where you can buy headphones or iPads and you can shop for children's toys like the American Girl line which Indigo recently brought to Canada. Each is catered to its own audience and each requires its own specialized team.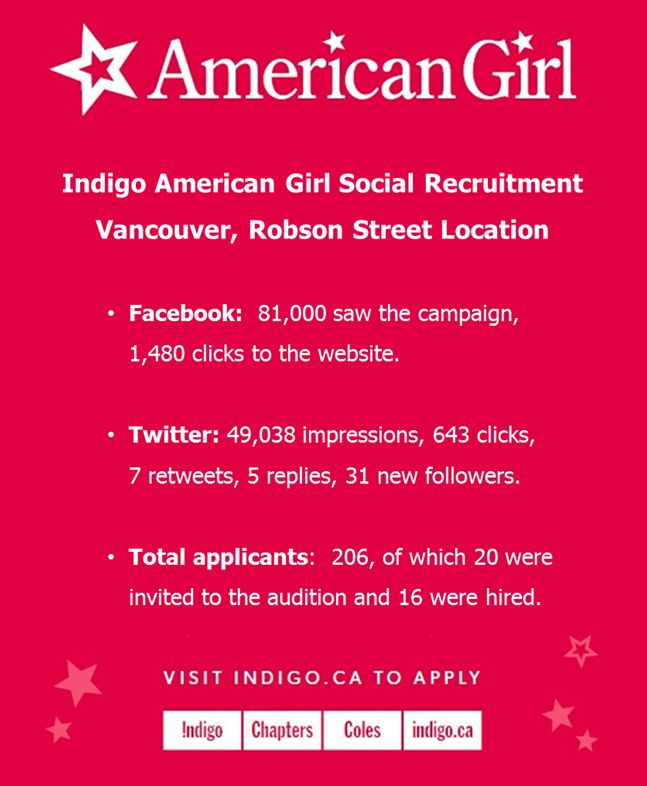 "American Girl is a brand of toys, dolls and dolls accessories," Dunne explained. "We needed to build a customer experience that was engaging for children and their parents so we launched a recruitment campaign asking people to apply for an 'audition' to represent the brand."
Twitter, Facebook, Instagram and LinkedIn
Indigo didn't just post a few job ads with a catchy title, in the spring and fall of 2014 they launched a full social recruitment campaign with Twitter, Facebook, Instagram and LinkedIn.
"We received thousands of applications and the quality of these candidates was amazing," said Dunne explaining that the auditions were held in groups of carefully selected candidates to amplify the experience for everyone involved. "We were able to put some people in Indigo Tech, or Home in on- site sales."
American Girl's brand builds the self-esteem of young girls, helping them find their passions and to embrace diversity. They also have a particular service model that Indigo needed to replicate in the employee and customer experience.
One brand thousands of stories
"You need to bring that story to life. We flew down to the States and learned directly from their teams, we brought the training methodology back and rebuilt it," said Dunne.
With an Indigo-ready training program the teams went to work and launched internally and externally. The buzz around the launch was enormous, on October 10, 2014, parents and their daughters in the thousands lined up outside waiting to get their hands on the dolls and Dunne's new teams of American Girl representatives were ready.
And their story continues, this year Indigo has again been voted one of Canada's leading employer brands by over 9,500 Canadians.
To find out where Indigo placed in the 2015 Randstad Award stay tuned for April 22, when we announce this year's winners and other exciting results and insights.
What employer brand do you think will win? Share your thoughts with us on Twitter by tweeting @RandstadCanada with #RandstadAward
What is the Randstad Award?
The Randstad Award is presented each year to the most attractive employer in various countries throughout the globe.It's not just another prize for the trophy cabinet because the winner is based on the outcome of the world's largest survey into employer branding. And unlike other best employer awards, it is 'the people's choice', based on the views of a representative sample of employees and job-seekers in each of the participating countries. 9,500 respondents per country between the ages of 18 and 65 are asked for their views on a country's 150 largest companies through an online questionnaire.
The companies are selected through national statistics agencies. This means they cannot request or subscribe to be included in the survey. The winners are selected solely based on the appeal of their employer brand. Such careful measures ensure that the survey remains completely objective.