What we've learned, what is coming next?
Editor's Note: Women Shaping Business is a program dedicated to shining a spotlight on diversity in the workplace of all types. Since 2012, Randstad Canada's Women Shaping Business program focused on a survey conducted by Ipsos Reid of women working in Canada both executives and employees, to gain a deeper understanding of the challenges and opportunities that women face in the world of work. In the last three years, this has expanded to discuss progress all workers can make to help them achieve their personal goals and career objectives.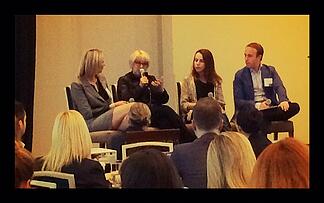 On November 4, 2014, Randstad Canada held a panel discussion on mentorship and gender equity in Montreal, Québec as part of this year's Women Shaping Business program. The panel featured; Nancy Venneman Présidente et fondatrice de l'entreprise Altitude Aerospace, Elizabeth Alves Vice-Présidente, Audit interne et gestion des risques chez Cogeco, Présidente du CA du chapitre du Québec de l'Association canadienne des femmes en communication et technologie (FCT), Ryan Hillier Avocat chez Blakes et président de la Jeune chambre de commerce de Montréal and Ruth Vachon Présidente-directrice générale du Réseau des Femmes d'affaires du Québec.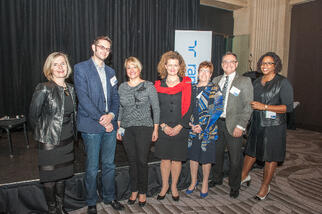 On November 12, 2014, Randstad Canada held a panel discussion on mentorship and gender equity in Toronto, Ontario as part of this year's Women Shaping Business program. The panel featured five great speakers including Spencer Saunders the President of Art & Science Digital Experience Design, Katherine Dimopoulos the Head of Marketing and Brand Experience at SCENE, Fawn Annan President & Group Publisher IT World Canada & Chair, Canadian Channel Chiefs Council, Ingrid Macintosh the Vice President of Portfolio Advice and Investment Research, TD Bank Group and Michael Kyritsis the VP of People and Values, Bond Brand Loyalty and was moderated by Linda Galipeau, the CEO of Randstad North America.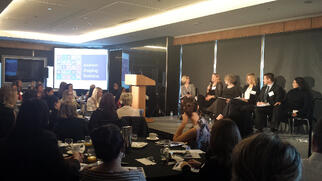 On November 13, 2014, Randstad Canada held a panel discussion on mentorship and gender equity in Calgary, Alberta as part of this year's Women Shaping Business program. The panel featured; Anna Murray, Founder Young Women in Energy, Dr. Rebecca Sullivan, Professor, Department of English Women's Studies Program, University of Calgary, Chris Marks, Global Talent Acquisition Leader for Ensign Energy, Farah Mohamed, Founder & CEO G(irls)20, Kelly Norcott, Sales Director, Telus Business Solutions; Regional Chair Connects - The Telus women's Network and was moderated by Linda Galipeau, Randstad North America's CEO and Randstad Canada's founder.
Men should have a seat at the table in the discussion about gender diversity
On the face of it, it sounds counter intuitive. The He for She solidarity movement put forward by UN women make a case for men to be part in the discussion on female leadership – and the reasoning is sound. First, you have to identify that men aren't the root cause of the problem – traditional organizational structure, unconscious bias and advancement strategies are. By bringing men into the discussion whole heartedly, it opens the door to a broader discussion about not just how to bring more female leaders up the ranks – but into how to improve organizational efficiency, find better leaders and improve the business.
Accommodate is not enough - organizations need to adapt
In one discussion held on our Toronto panel this year, the word ''accommodate'' was used to describe what organizations can and should do to help women reach work life balance or workplace harmony. The problem with accommodation is that it implies there is solution for a punctual, limited or short-term problem. But as organizations need more and more skilled workers, and women form a huge proportion of this workforce, while still struggling to juggle job and family responsibilities, accommodating will not be enough. And where accommodate fails, adapt supersedes – it implies that a system will change and evolve to address the problem permanently. In the case of gender diversity, organizations should not accommodate half of the working population, they should adapt to an imbalance that need to be solved.
Gender and family issues aren't just women's issues, they are workplace issues
In all of our panel discussions held this year, we had stories that highlighted diversity issues that could have been prevented with training. One story was about a senior professor at a university who was looking for a way to improve the work life balance for this teachers who had children. He instituted a new mandate, stipulating that teachers with parents would no longer teach afternoon classes, thinking that in doing this, he'd make their lives easier.
He was wrong. His change placed a burden on everyone – teachers who had arrangements for afternoon care for their children no longer needed it, teachers who didn't have children were now forced to teach more afternoon class, which impacted them in uncounted ways. The lesson in the story: family issues are workplace issues, not specifically ones of gender, and they impact everyone whether you have a family or not.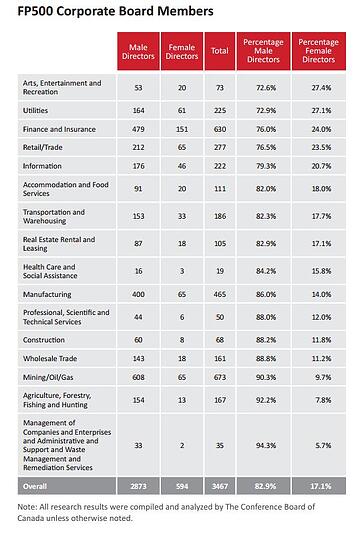 Sponsorship is key … self-promotion too:
The role of a sponsor is to help you develop your career, promote you internally, and help you advance in an organization. The mentor, on the other hand, is more of a coach, giving you advice and sharing their experiences on specific issues. Sponsors and mentors are very strong allies, but you also need to keep evaluating yourself and looking for ways to improve.
And while it is a good thing to assess your progress, you should avoid giving too much into self-criticizing and self-doubt. Display your ambition so other managers understand your goals, and speak openly about your success. Women have a tendency to minimize their successes - be proud of your accomplishments and do all you can to promote them.
Women on boards, women in STEM: are we doing enough?
The question that we posed this year and is becoming more prevalent in the discourse around gender equity, is, "Is this enough?"Through research and our discussions, we see that female leaders advocating for more women in executive positions in their organizations have an impact – more women are given opportunities. There has been great progress, as you can see below, in a graph published in the 2014 Board Diversity Report Card published by the Canadian Board Diversity Council. Organizations with more female
board members have more female executive members. The impact of more women on boards means more women in positions of power.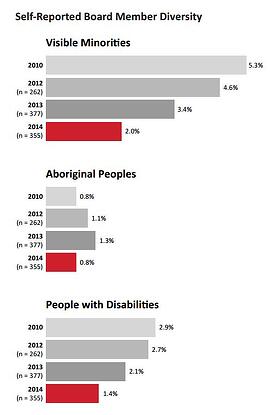 The question that we posed this year and is becoming more prevalent in the discourse around gender equity, is, "Is this enough?"
In the fields of Science, Technologies, Engineering and Mathematics that's a resounding no. In IT and natural resources, again we're seeing too few women entering the job market and when they get there, they are leaving too early. Here is an example: in Manitoba[1], only 8% of professional engineers are women. Another large proportion of women who are trained and have paid dues to their representative engineering association choose not to work as engineers.
Below is a graph of female engineering membership and due-payments in Manitoba, through the Association of Professional Engineers & Geoscientists in Manitoba (APEGM). Members of the APEGM, who are women only 15% are practicing currently – versus 33% who are deferring their dues.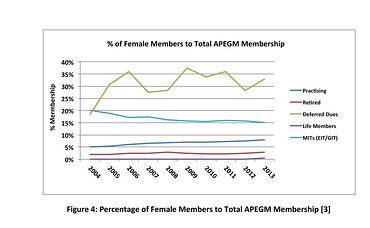 The challenges of training more women in STEM fields is real, as is the capacity for organizations and work cultures to keep them in these fields once they are in these careers.
This year we hope to explore why these dynamics exists and what companies are doing to improve the world of work for women
******
This year will be an exciting time for diversity in the workplace and we hope that we can continue to provide you with valuable insights, research and advice on growing in the world of work.