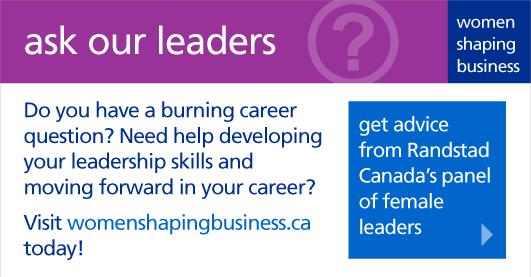 Through our Women Shaping Business program, we want to provide you with valuable insights that you can use to assess the leadership of women in your organization, evaluate your own professional career growth plan, and inspire you to reach out, connect and keep the conversation going.
With this in mind, Randstad Canada's Leadership team invites you to submit a burning question you have on career development, mentorship, leadership skills, or any other topic around women in business. Submit your question using the form here and a member of our Ask Our Leaders panel will provide insightful advice to help you manage your career.
This week's featured Randstad Leader is Shannon Young, Director of Human Resources, Randstad Canada.
What is your advice to newcomers in Alberta looking for jobs? What should they do to not to get demotivated from the current situation while managing their expenses.
Staying motivated in a down economy can be tough, and even more so for a newcomer. As difficult as it may seem, it's important to stay positive and keep an optimistic outlook when job hunting. I recommend anyone looking for a job to be as active as possible, and keep an open mind when considering opportunities.
Networking is always a good way to stay active and get your name out there. Look for local employment groups or Professional Associations in your field of work, some of them have nights dedicated to job seekers. Some may even have mentorship programs that will help you meet successful people working in your chosen field. Job fairs are also a great way to see what's out there and who's hiring. As a newcomer, there may also be community organizations that offer job search or resume assistance. Stay active on social media like LinkedIn and don't be afraid to let everyone know you are looking.
When looking for work in your field, whether you're new to the area or to the working world itself, keep an open mind. I speak to many people who are focused solely on the perfect job, a specific title, or even company. They limit their own opportunities by narrowing their idea of what they can accept. I'm not saying it doesn't pay to have standards or a lofty goal in your search, but consider opening your search in terms of geography, job titles, and even industry. Don't be afraid to consider contract or consulting openings. Even if you're looking for full-time, they may lead to a permanent opportunity down the road.
Consider volunteer opportunities in your desired companies, although they may be limited to students, it's working asking. Volunteering with your local community organizations can also help your networking and keep you busy! For starters, look at what charities your target companies are supporting, they may be tied to or relevant to your industry and allow you to apply your skills in a meaningful way.
Lastly, look at school programs, whether it's adding a new designation, or just updating your credentials, it could improve your profile and chances of edging out other applicants. Schools are also a great way to connect with employers!
If you keep at it, your efforts will be rewarded in time.
About our Leader
Shannon Young joined Randstad Canada in January 2012, starting as a Senior HR Business Partner, she was later promoted to Director, Human Resources in 2014. As an HR leader, she and her team are responsible for delivering a full range of HR programs across Canada, and developing employee programs that drive high performance and engagement.
Shannon has 15 years' experience in human resources, including 10 years in leadership roles with multi-national companies. Prior to joining Randstad, Shannon spend almost 8 years with Staples Advantage Canada, leading the HR function for the largest region in Canada, employing effective people strategies that lead them to be named one of the 50 Best Workplaces in Canada by the Globe and Mail for three years. Rounding out her breadth of experience, she also spent two years in Sales Management with Staples.
Shannon holds a Bachelor of Arts Honors degree with a Major in Psychology, she completed the Human Resources Management Certificate at Sheridan College, and holds the CHRL designation.